The Same Hello,
the Same Goodbye

(1978)

---

A never-before recorded song by John Williams for FRANK SINATRA.
Music by John Williams
Lyrics by Alan & Marilyn Bergman
---
1.

The Same Hello, the Same Goodbye (4:17)
Michael Feinstein
from "The Sinatra Project" (2008)
---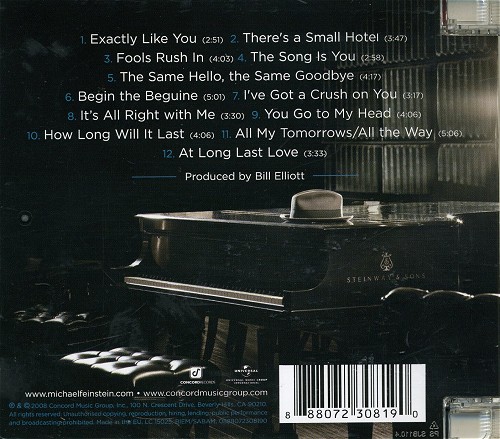 ---
---
"The Same Hello, the Same Goodbye" is an excerpt from a four-part dramatic performance piece with lyrics by Alan and Marilyn Bergman that Frank Sinatra invited them to write in the late 1970's.

After they finished it, working with composer John Williams, they drove to Sinatra's compound in Palm Springs. After they played it for him, Sinatra, in tears, asked, 'How do you know so much about my life?' And Marilyn said, 'As if your life was a closed book.' But though he loved it, it was getting a little late in the game for him, and he never learned it.
When Michael Feinstein found out about it, he thought it would be a fabulous centerpiece for his album. But Alan and Marilyn realized they had cannibalized it and used parts for other songs. They were only able to extract one section.
---
Michael Feinstein (from the Condcord website):
"The Same, Hello, the Same Goodbye," comes from the husband-and-wife team of Alan and Marilyn Bergman, one of Sinatra's favorite songwriting teams throughout the latter half of his career. "The Bergmans worked a lot with Frank," says Feinstein. "He used to call them 'the kids.' Sinatra first met them when they wrote "Nice 'n' Easy" for him on spec. One day they got a call from Frank, asking if they could write what he called a "performance piece" for him... So they got together with John Williams and wrote this four-section piece. When they finished, Sinatra told them to come to Palm Springs. There was Williams at the piano and Alan singing, and when they finished Sinatra was sobbing. He said, 'Jesus, how do you know so much about my life?' and Marilyn laughed and said, 'As if your life is a closed book!' Sinatra kept saying, 'I'm going to learn that thing, it's fantastic,' but he never did. So, when I was putting this recording together, I called Alan and Marilyn and asked about the piece. Alan was a little cagey about it. They kept me on tenterhooks.... [But] I kept after them, and finally Alan said, 'come over.' They'd extracted one of the songs. I sat down and read through the lead sheet, and was deeply moved by it. About three weeks later, I recorded it with Alan in the studio to make sure I did it to their satisfaction."
---
Los Angeles Times
Archive for Monday, September 01, 2008
Sinatra, done his way
Feinstein takes Ol' Blue Eyes' 1940s hits and gives them 1950s Nelson Riddle-style arrangements.
By Josh Getlin
Ol' Blue eyes did it his way – and so now has Michael Feinstein.

When he began kicking around ideas recently for a new album, the singer and recording artist who carries a torch for the Great American Songbook initially dismissed a suggestion that he do a Frank Sinatra tribute. There were too many on the market already, he thought, and most simply copied legendary performances, sometimes note for note. Why bother?

But then Feinstein, who is also a music historian and curator, came up with a novel idea: Why not make an album of classic pop standards that Sinatra never got around to recording during his golden years in the 1950s at Capitol Records on Hollywood and Vine?

It would be as if the world had discovered a long-lost album. As Feinstein imagined it, the songs would be performed in Sinatra's swaggering style at Studio A – where he made history with Nelson Riddle, Billy May and other famous arrangers – and they'd be recorded the old-fashioned way, in stereophonic sound with a live studio band. Just like Frank did.

"I was intrigued by the idea of taking a song Sinatra sang in the 1940s and doing an arrangement as if he had sung it a decade later, with Nelson Riddle at the podium," said Feinstein, describing the origins of "The Sinatra Project," due out Tuesday. "The key was to find the right material and then make it sound like one of those classic records."

The result is an album that some are calling one of the finest in Feinstein's career. The Los Angeles-based singer, working with producer-arranger Bill Elliott, recorded 11 tracks in two days, expanding the concept to include standards Sinatra sang in the 1950s with the addition of complete (and rarely heard) lyrics. He also included "How Long Will It Last," a duet with the world- and lounge-music group Pink Martini, and a gem – "The Same Hello, the Same Goodbye" with lyrics by Alan and Marilyn Bergman and music by John Williams – which was written for Sinatra but never recorded.
Old-school cool

"For a new record, this is as close to being at a Sinatra date as you'll get," said historian Charles Granata, whose "Sessions With Sinatra" is considered the definitive book on his recordings. "And it's not just because of Michael's performance, but the way it was recorded. It's a throwback to the way records used to be made, with live music in the studio."

Surprises abound: Purists and casual fans might listen to Feinstein's knockout version of "Begin the Beguine" by Cole Porter and initially think that they've heard it before on one of Sinatra's great Capitol recordings. But they haven't. The swinging, jazzy arrangement, which was written and conducted by Elliott, is a wholly original yet evocative tip of the hat to "I've Got You Under My Skin," "Night and Day" and other fabled Sinatra performances.

" 'Begin the Beguine' is one of Cole Porter's most famous songs, but Sinatra and Riddle never did it together," said Elliott. "My goal was to write studio charts that honored Riddle's signature style but also used my own musical vocabulary."

This blend of old and new echoes throughout the record, which features "At Long Last Love," "The Song Is You," "I've Got a Crush on You" and other hits. It also introduces a new dimension to Feinstein's singing: His soft, distinctive tenor has evolved into a more burnished baritone, and he cooks with the band. Yet he made no attempt to mimic Sinatra's vocal style.

"That would be like copying the Mona Lisa," he said. "Nobody sang these songs better than Sinatra."

Indeed, before "The Sinatra Project" got rolling, Feinstein faced different challenges. How the album would be recorded, for example, became a point of contention.

Nowadays, with the advent of digital technology, producers and engineers have refined the art of recording to an exact science. Although a record might sound like singers and musicians are playing together, they rarely interact in the studio. Instead, they're usually sequestered in isolation booths, where they lay down individual tracks. When they're done, producers synthetically combine the tracks into a digitally "perfect" recording. Mistakes can be smoothed over and re-recorded, and most listeners never know the difference.
'Like going back in time'

But that's not how Frank did it. He recorded live with a band on tape. Although his vocals were captured in a separate booth, the musicians were expected to play together and get it right the first time. Many audiophiles believe the albums he made at Studio A have a warmth missing from most digital recordings.

When Feinstein and Elliott decided to go retro, however, they ran into resistance. "The record company and engineers said it couldn't be done, because one mistake could ruin an entire take," Feinstein said. "But after the first few takes, when we captured this incredibly lush sound, the mood changed. Everybody went crazy. Everybody was taking bows."

Granata, who was invited by Feinstein to witness the sessions, said there was a definite sense of history in the room. "Here we were, in a place where so much great American music was born," he noted. "It was a vital way of keeping the Sinatra tradition alive."

Usually the memory of a recording session vanishes when the last take is done. Musicians scatter and move on to their next gig. But for Gene Cipriano, a veteran who played horns on many of Sinatra's classic sessions at Capitol and who also worked on "The Sinatra Project," Feinstein's musical homage turned out to be an unforgettable occasion.

"I got chills as we went from one track to the next," he said. "It was a modern recording, but it was also like going back in time. Like Frank was standing there himself."
---
© MH