---
This score was published by Chapter III Records on one CD together with 'Don't Make Waves'.
The 'Penelope' score consists of 12 tracks (track 14 - 25).
Track Listing
14. PENELOPE (Sung by the Pennypipers) (1:59)
The gently-rocking "title" music, sung by a group specially organized by composer Johnny Williams.
Leslie Bricusse wrote the lyrics.
15. POOLSIDE (3:12)
Penelope displays her "taking ways" at a luxurious poolside party—to a bubbling musical background.
16. PENNY'S ARCADE (2:30)
Penny meets her future husband at a Greenwich Village club. He's captivated -
despite the dingy "Penny Arcade" atmosphere.
17. LA BOSTELLA (2:14)
Penelope throws a party to introduce Elcott to her bearded beatnik friends.
Mr. Williams' music adds a Latin-American touch to the proceedings.
18. THE GIRL IN THE YELLOW DRESS (2:40)
Since the "Yellow Dress" plays a key role in the plot, Johnny Williams gives it a melody of its own.
19. PENELOPE (Instrumental) (3:24)
A brassy arrangment of the title tune, depicting the zany side of Penelope.
20. PENELOPE (Love Theme) (3:15)
And here's the romantic side of Penelope, as Williams decks out the title song
with lush strings and woodwinds.
21. GIRL CHASE (3:25)
No Comedy is complete without a chase, but this chase has the benefit
of some very surprising music and arrangements.
22. THE SUN IS GRAY (Sung by Natalie Wood) (2:20)
The only non-Williams music, this is composer Gale Garnett's contribution to the film.
Penelope sings it in the night club where she meets her future husband.
23. SADABA (2:30)
A tune as looney and lovable as the madcap Hungarian couple it portrays.
24. AT THE ART MUSEUM (3:14)
Another Williams composition designed mainly for strings, theme sets the scence
for Penelope's meeting with Lieutenant Bixbee.
25. THE MAD PROFESSOR (1:52)
Penny's chemistry instructor (Jonathan Winters) gets a very chemical reaction to his pretty student.
Results: a hilarious chase with music to match.
---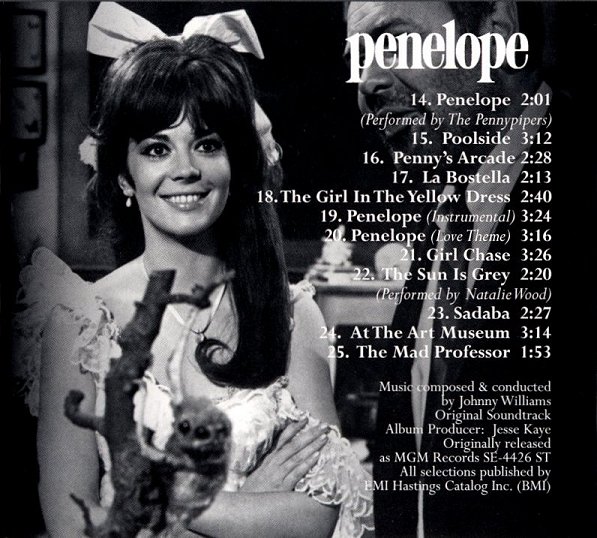 ---
Cute and kooky Penelope Elcott (Natalie Wood) is a girl who has everything. A rich husband (Ian Bannen). A fifty-dollar-an-hour psychiatrist (Dick Shawn). A lovely home. And a drawer full of diamonds - all stolen.
For Penelope's hobby is larceny. And she indulges in it whenever she fells her husband neglects her. In fact, she actually holds up her husband's bank on opening day, disguised as a little old lady. It appears to be a perfect caper. But Police Lieutenant Bixbee (Peter Falk) suspects that Penelope and the gray-haired bamk robber may be one and the same. His clue: Penelope's very distinctive "wiggle."
This whacky "clue" leads him a whacky chase as he trails Penelope, in her various disguises, to the fashion salon of Princess Sabada (Lila Kerdova) and Ducky (Lou Jacobi).
Actually, the salon owners are a couple of high-class con artists, who have the evidence with which to blackmail Penelope.
When a woman with a similar "wiggle" is arrested, Penelope has a change of heart. She asks her psychiatrist to take back the loot. He goofs. She asks the Princess and Ducky to turn her in. They refuse. She even confesses. No one believes her.
Finally, after a mad fiasco of mistaken identities, whirlwind chases and just plain belly laughs, the whole zany affair is untangled. The Lieutenant returns to duty. The psychiatrist returns to his couch. And Penelope returns to her husband—as love and larceny conquer all.
---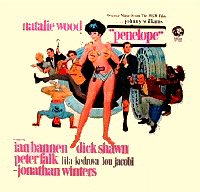 ---
About Johnny Williams

New York-born Johnny Williams got his first taste of musical life right in the family circle. (His dad was drummer in the Raymond Scott Quintet.)

By the time Williams was in his early twenties, he'd already earned his own spurs as pianist, composer and conductor.

Johnny has provided the musical savvy for many of the nation's top pop singers. He's made the TV scene with scores to such quality shows as "Checkmate," "The Kraft Theatre" and "The Bob Hope—Chrysler Theatre." Classical music buffs know him for his "Essay for Strings," which has been performed by leading symphony orchestras.

But during the last few years, Williams has turned his attention primarily to Hollywood soundtracks. Among his numerous movie credits: "Diamond Head," "John Goldfarb, Please Come Home," "How to Steal a Million," "Not With My Wife, You Don't" and - of course - this delightful musical portrait of "Penelope."
---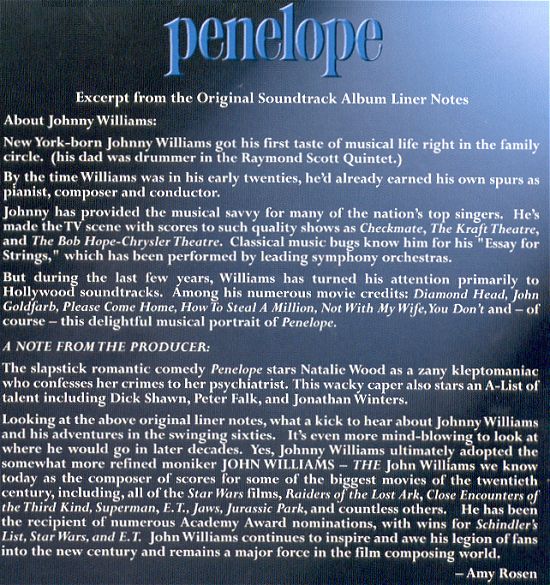 ---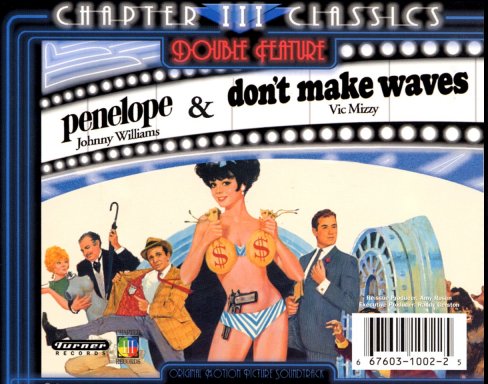 ---