---
Track Listing
CD 1 (73:56) — Film Edit

01) Opening Titles — 0:30
02) Incident at Isla Nublar — 2:21
03) Mining for Bones & Amber — 1:12
04) Hammonds Proposition — 0:46
05) Que Milagros Chaparrita — 2:04
06) Journey to the Island — 8:57
07) Mr. DNA — 2:32
08) Hatching Baby Raptors — 2:00
09) You've Bred Raptors — 0:31
10) Timmy & Lex — 1:29
11) Jurassic Park Gate — 2:03
12) Sick Triceratops — 1:57
13) Storm Clouds — 1:19
14) Dennis Steals the Embryos — 4:58
15) Bring Back My Grandchildren — 1:10
16) Between a Truck and a Long Fall — 1:02
17) Finding Dr. Malcolm (Intro to–) — 2:00
18) The Great T-Rex Chase — 1:11
19) A Tree For my Bed — 2:12
20) Remembering Petticoat Lane - My Friend the Brachiosaurus — 4:27
21) Broken Eggshells — 1:20
22) System Ready — 0:43
23) To the Shed — 4:09
24) High Wire Stunts — 3:05
25) Raptors in the Shed — 0:57
26) Clever Girl — 1:08
27) Raptors in the Kitchen — 2:00
28) Frozen Raptor - Control Room — 4:11
29) T-Rex Rescue and Finale — 3:30
30) Looking Back and End Credits — 7:57
CD 2 (39:25)
01) Jurassic Park Theme (Concert Version) — 5:28
02) Jurassic Park Teaser Trailer — 1:35
03) Jurassic Park Trailer Music I — 2:41
04) Jurassic Park Trailer Music II — 1:14
05) Brachiosaurus (SFX) — 1:45
06) Parasaurolophus (SFX) — 0:14
07) Velociraptors (SFX) — 2:20
08) Triceratops (SFX) — 0:14
09) Dilophosaurs (SFX) — 0:52
10) Gallimimus (SFX) — 0:39
11) Tyrannosaurs Rex (SFX) — 2:32
12) Jurassic Park Theme (40 Years) — 6:05
13) My Friend the Brachiosaurus (Concert Version) — 4:39
14) Burn it All - Hans Zimmer (Backdraft) — 5:16
15) Jurassic Park Overture (Hollywood Fantasy) — 5:49
16) Jurassic Park: The Ride — 2:38
17) Jurassic Ambiance I — 0:40
18) Jurassic Ambiance II — 0:20
19) Jurassic Ambiance III — 0:52
20) The Dinosaurs (Alternate) — 3:30
CD 3 (77:31)
01) Opening Titles — 0:37
02) The Island Incident — 2:21
03) The Encased Mosquito — 1:12
04) The Entrance of Mr. Hammond — 1:00
05) To the Island — 3:17
06) Intro To — 1:21
07) The Dinosaurs — 3:13
08) The Entrance to the Park — 1:20
09) Cartoon Display — 2:32
10) Hatching Baby Raptors — 2:00
11) You've Bred Raptors — 0:31
12) The History Lesson — 1:29
13) Jurassic Park Gate — 2:03
14) Goat Bait — 2:22
15) An Ailing Monster — 2:34
16) The Storm is Coming — 1:19
17) Dennis Steals the Embryos — 4:58
18) The Trouble with Dennis — 1:10
19) The Falling Car — 3:06
20) The T-Rex Chase — 1:34
21) A Tree for my Bed — 2:12
22) Remembering Petticoat Lane — 2:48
23) My Friend the Brachiosaurus — 1:48
24) Eggs in the Forest — 1:22
25) System Ready — 0:43
26) Preparing to Meet the Monster — 4:11
27) High Wire Stunts — 2:49
28) Hungry Raptor — 4:11
29) Into the Kitchen — 2:49
30) March Past the Kitchen Utensils — 4:11
31) T-Rex to the Rescue — 3:30
32) End Credits Part I — 4:32
33) End Credits Part II — 3:24
---
Jurassic Park: The Complete Score 3 Disk Set
Edited by BrachioInGen/GoodMusician
Note:

CD 1 is a complete film edit of the score as heard within the film with all edits and tracked music.
CD 2 is a supplemental disk containing all kinds of extras from concert arrangements of themes from the film, dinosaur sound library, and original trailer audio/music.
CD 3 presents the score as complete as possible. This preserves the scores clean intros and endings as it had been recorded along with original title names and slate numbers.
(Bernard Kyer)
---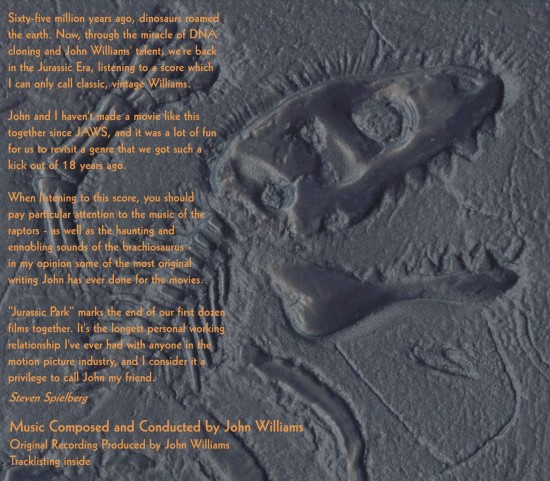 ---