---
Track Listing
CD 1 (47:46)
1 Opening Titles :38
2 Incident at Isla Nublar (Film Version) 2:25
3 The Encased Mosquito 1:16
4 Entrance of Mr. Hammond 1:10
5 Journey to the Island 8:56
6 Hatching Baby Raptor (Film Version) 2:05
7 You Bred Raptors? * :40
8 The History Lesson (Film Version) 1:34
9 Jurassic Park Gate 2:05
10 Goat Bait 2:26
11 The Saboteur * :48
12 Ailing Triceratops 2:36
13 The Coming Storm (Film Version) 1:26
14 Dennis Steals the Embryo 5:05
15 Race to the Dock * 1:18
16 The Falling Car and The T-Rex Chase ** 4:59
17 A Tree for My Bed 2:14
18 Remembering Petticoat Lane 2:49
19 My Friend, the Brachiosaurus (Film Version) 1:51
20 Life Finds a Way 1:26

CD 2 (44:04)
1 System Ready * :49
2 To the Maintenance Shed 4:12
3 High Wire Stunts 4:10
4 Hungry Raptor 2:09
5 The Raptor Attack 2:51
6 T-Rex Rescue and Finale 7:43
7 Welcome to Jurassic Park 7:58
Total Time: 29:55
Total Score Time: 77:41

Additional Music (14:14)
8 Theme from Jurassic Park 3:34
9 Stalling Around 2:36
10 Welcome to Jurassic Park (Film Version) 8:01

Two-Disc Time: 91:50

CD 3 (60:38)
1 The Lost World 3:36
2 The Island's Voice 3:38
3 Revealing the Plans 2:18
4 To the Island 3:40
5 The Stegosaurus (Extended Version) 5:28
6 Fire at Camp and Corporate Helicopters * 3:23
7 The Hunt 3:34
8 Big Feet * 1:44
9 Spilling Petrol and Horning In * 5:07
10 Up in a Basket * 3:27
11 In the Trailer * 2:21
12 On the Glass * 4:05
13 Rescuing Sarah (Extended Version) ** 5:10
14 Reading the Map * 3:11
15 The Trek 5:25
16 The Compys! 4:30

CD 4 (57:30)
1 Ripples ** 5:55
2 The Long Grass 2:28
3 Finding Camp Jurassic 3:05
4 The Raptors Appear 3:44
5 High Bar and Ceiling Tiles * 4:12
6 Heading North 2:14
7 Ludlow's Speech * 3:15
8 The Wrecked Ship 2:22
9 Monster on the Loose * 2:38
10 Visitor in San Diego (Extended Version) 7:41
11 Ludlow's End 2:52
12 Tranquilizer Dart ** 3:01
13 Jurassic Park Theme (End Credits) 5:30
Total Time: 48:55
Total Score Time: 109:33

Additional Music 8:32
14 The Lost World (Alternate) ** 3:37
15 Tranquilizer Dart and End Credits (Film Version) 4:55

Two-Disc Time: 118:08

* Previously unreleased
** Contains previously unreleased material

Total Four Disc Time: 3:29:58
---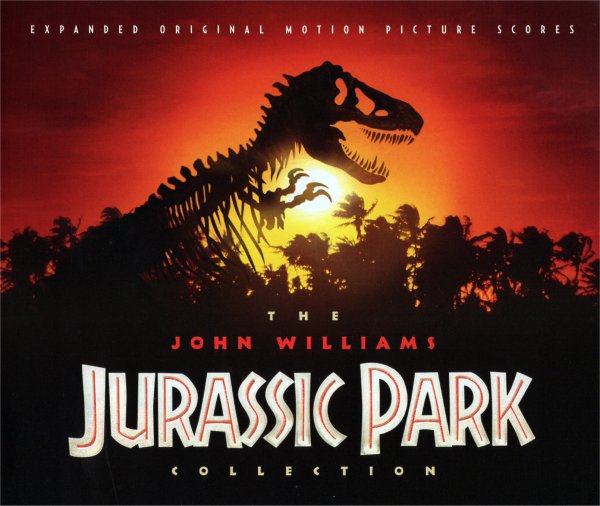 ---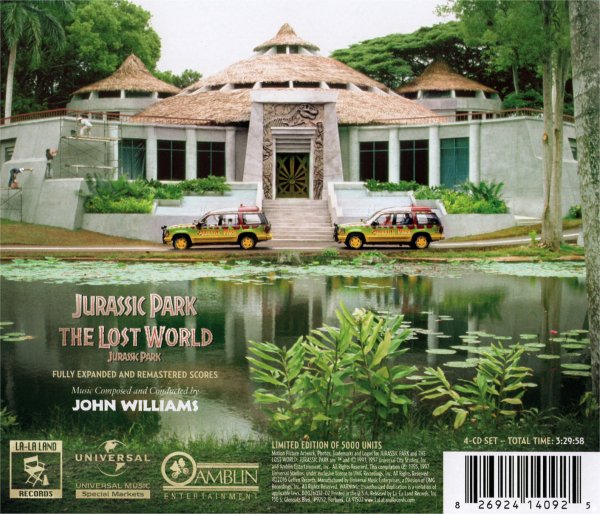 ---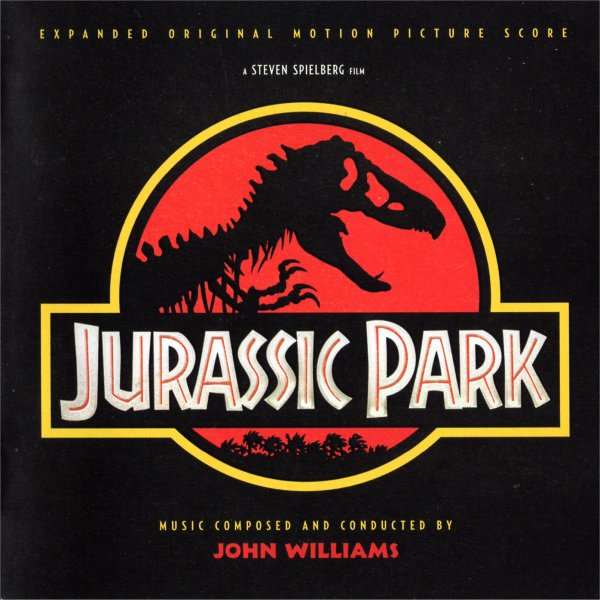 ---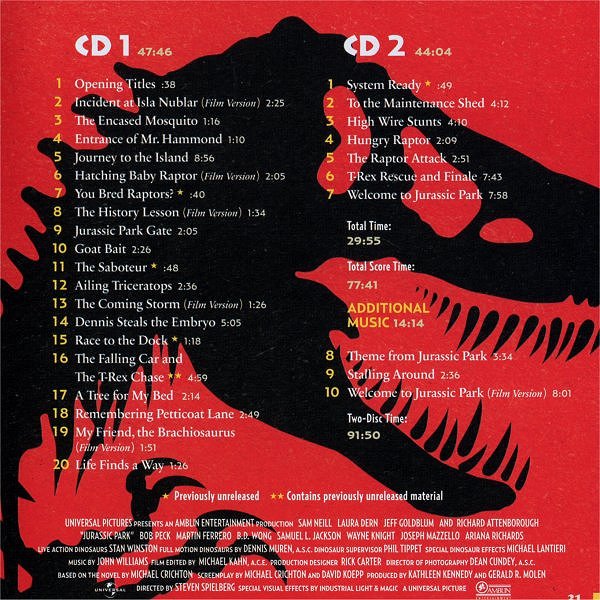 ---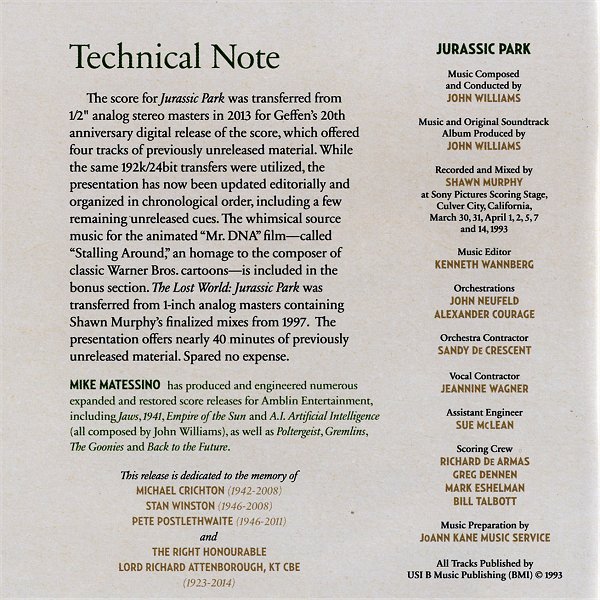 ---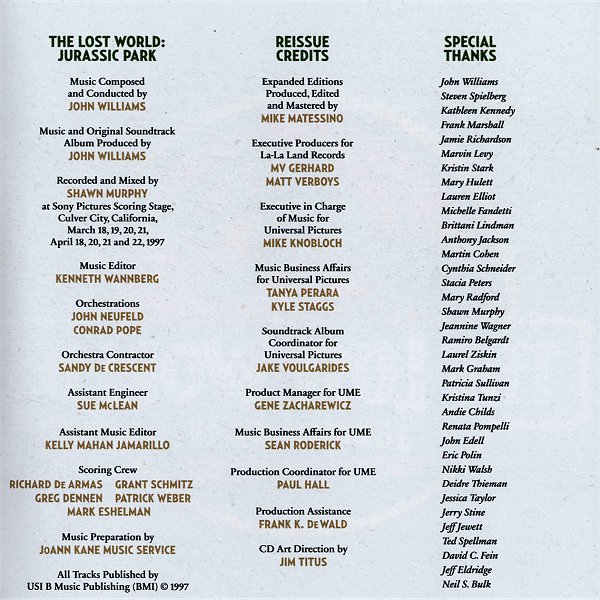 ---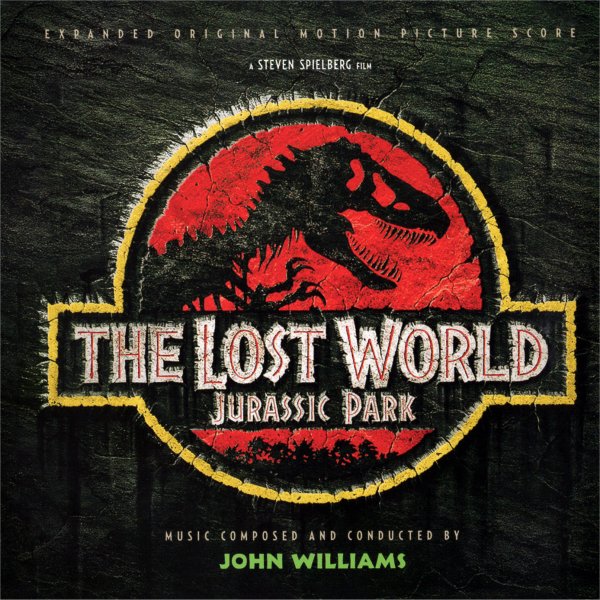 ---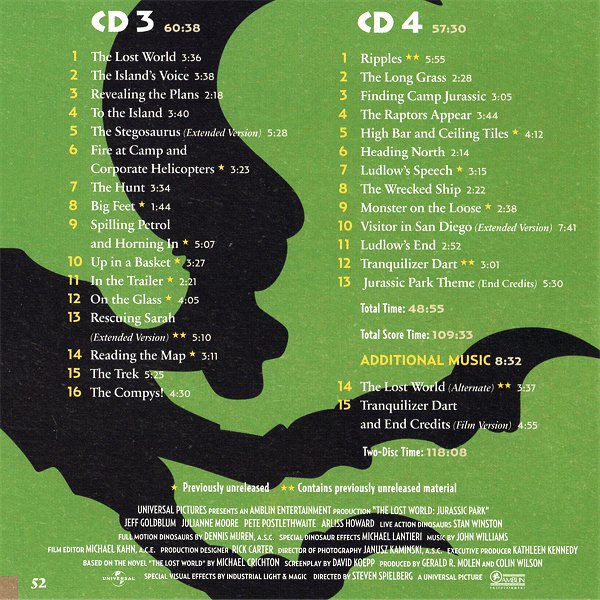 ---
Liner Notes
Sixty-five million years ago, dinosaurs roamed the earth. Now, through the miracle of DNA cloning and John Williams' talent, we're back in the Jurassic Era, listening to a score which I can only call classic, vintage Williams.
John and I haven't made a movie like this together since JAWS, and it was a lot of fun for us to revisit a genre that we got such a kick out of 18 years ago.
When listening to this score, you should pay particular attention to the music of the raptors - as well as the haunting and ennobling sounds of the brachiosaurus - in my opinion some of the most original writing John has ever done for the movies.
JURASSIC PARK marks the end of our first dozen films together. It's the longest personal working relationship I've ever had with anyone in the motion picture industry, and I consider it a privilege to call John my friend.
Steven Spielberg, Director
---