---
Track Listing
1. Lumos! (Hedwig's Theme) (1:37)
2. Aunt Marge's Waltz (2:15)
3. The Knight Bus (2:52)
4. Apparition on the Train (2:15)
5. Double Trouble (1:37)
6. Buckbeak's Flight (2:08)
7. A Window to the Past (3:54)
8. The Whomping Willow and The Snowball Fight (2:22)
9. Secrets of the Castle (2:32)
10. The Portrait Gallery (2:05)
11. Hagrid the Professor (1:59)
12. Monster Books and Boggarts! (2:26)
13. Quidditch, Third Year (3:47)
14. Lupin's Transformation and Chasing Scabbers (3:01)
15. The Patronus Light (1:12)
16. The Werewolf Scene (4:25)
17. Saving Buckbeak (6:39)
18. Forward to Time Past (2:33)
19. The Dementors Converge (3:12)
20. Finale (3:24)
21. Mischief Managed! (12:15)
Celeste: RANDY KERBER
Early Music Instruments: THE DUFAY COLLECTIVE
Chorus: LONDON VOICES
Children's Choir: THE LONDON ORATORY SCHOOL
"Double Trouble" includes performance by LONDON SINFONIETTA
Music Recorded & Mixed at ABBEY ROAD STUDIOS, LONDON, March 2004
---
John composed "Double Trouble" during the production of the film as we decided that a children's choir would be a warm welcome back to Hogwarts. The theme, a melodic mischievous close cousin of the "Hedwig's Theme" composed around text from Shakespeare's "Macbeth", became the foundation stone for the rest of the film score. Its medieval color became the musical identity of the wizarding world in this third installment of Harry Potter.
John juggled these medieval motifs with a late 19th century rossini-esque narrative, a delirious big band Jazz number, and 20th century music (which we both share a love for). How he managed to create a unity out of it all, beats me!
It was a great privilege to witness, as the scoring sessions unfolded, music breathing life into what has become a much better film. Gracias Maestro!
Alfonso Cuaron, Director
---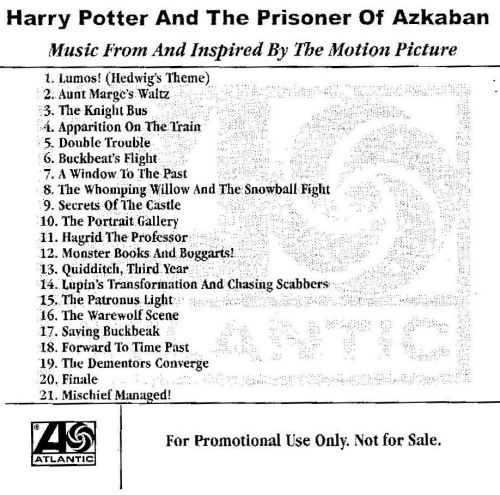 ---