---
Track Listing
1. Sayuri's Theme (1:31)
2. The Journey to the Hanamachi (4:06)
3. Going to School (2:42)
4. Brush on Silk (2:31)
5. Chiyo's Prayer (3:36)
6. Becoming a Geisha (4:52)
7. Finding Satu (3:44)
8. The Chairman's Waltz (2:39)
9. The Rooftops of the Hanamachi (3:49)
10. The Garden Meeting (2:44)
11. Dr. Crab's Prize (2:18)
12. Destiny's Path (3:20)
13. A New Name ... A New Life (3:33)
14. The Fire Scene and the Coming of War (6:48)
15. As the Water... (2:01)
16. Confluence (3:42)
17. A Dream Discarded (2:00)
18. Sayuri's Theme and End Credits (5:06)
Itzhak Perlman, violin
Yo-Yo Ma, cello
Steve Erdody, cello
Karen Han, erhu
Music Editors: Ken Wannberg, Ken Karman, Ramiro Belgardt
Music Recorded and Mixed by Shawn Murphy
Executive Producer: Rob Marshall
Golden Globe Award
---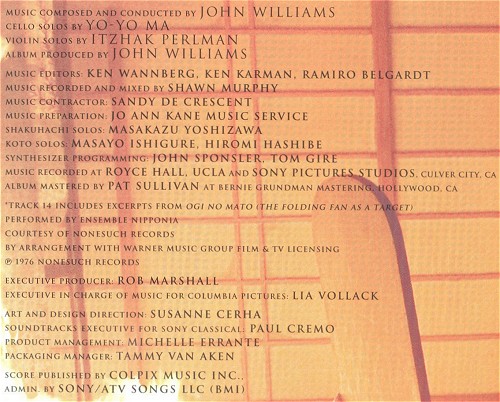 ---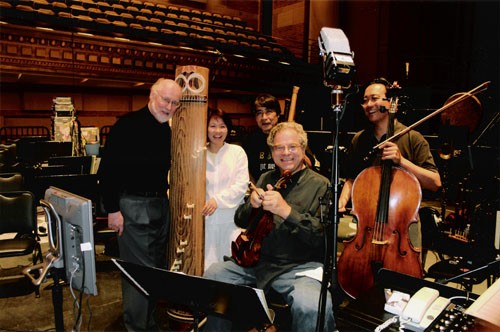 John Williams, Masayo Ishigure, Masakazu Yoshizawa, Itzhak Perlman, Yo-Yo Ma
---
"I feel very privileged to have had the opportunity to compose a musical score for Rob Marshall's film, Memoirs of a Geisha. For years I've admired Arthur Golden's remarkable book and it has been a wish come true to collaborate with my friends Yo-Yo Ma and Itzhak Perlman on this extraordinary film."
John Williams
"It is rare that you have the opportunity to work with so many people you admire on one project. John Williams sent me a copy of Arthur Golden's extraordinary book when it was first released and I have been a fan ever since. Working with John Williams and Itzhak Perlman on John's poetic and mysterious score for Rob Marshall's film Memoirs of a Geisha was a dream come true."
Yo-Yo Ma
"As with all of John Williams' film scores, his music for Geisha is in sync with the contents of the film to such an extent that you cannot have one without the other."
Itzhak Perlman
---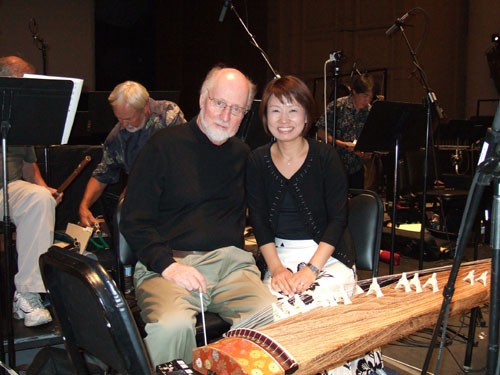 John Williams, Masayo Ishigure
---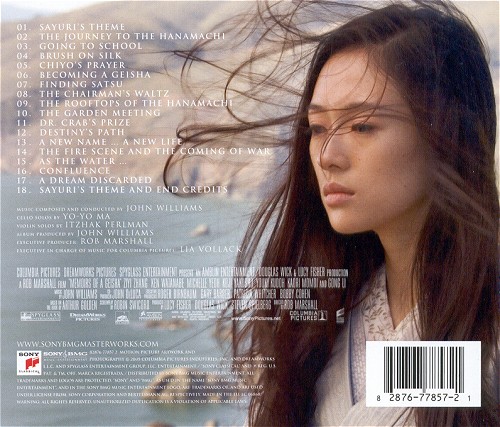 ---

---
Thanks to jwfan.net!
---