---
Track Listing
CD 1: The Film Score (49:06)
1. Welcoming Band (2006 DVD release) †* [1:44]
2. Homecoming [0:32]
3. Medical Exam [0:51]
4. Wednesday Special (Main Title)** and Neptune's Bar † [3:20]
5. Maggie Shoots Pool † [3:55]
6. New Shooter † [2:00]
7. Paying Up † [3:58]
8. Welcome Aboard! (Wednesday Special)** and Carousel Music † [3:41]
9. Going After Maggie † [2:06]
10. Shore Patrol † [0:22]
11. Maggie and Baggs (lp side 1 track 5) [4:06]
12. Bed Talk and The Ferry Ride (lp side 2 track 4) [3:47]
13. Bar Music † [2:54]
14. Boxing Montage (lp side 1 track 6) [2:56]
15. Baby Boy Arrives [2:03]
16. Two Friends † [1:36]
17. Giving Up [2:11]
18. You're Nice To Be Around** [1:32]
19. The Letter [2:06]
20. The New Baggs and End Titles (Wednesday Special)** [1:46]
Bonus Track
21. Welcoming Band (Original Film release) †* [1:39]
*Composed by John Philip Sousa
**Composed by John Williams, Lyrics and vocals by Paul Williams
†Used as source music
Some cues are indicated as appearing on the LP, but only the DVD was actually used.
CD 2: Nice To Be Around (62:30)
1. Vocal by Paul Williams (3:05)
Released in 1974 on A&M Records 3655
2. Vocal by Maureen McGovern (2:25)
Released in 1974 on 20th Century Fox Records TCR-2
3. Performed by Toots Thielemans (3:13)
Recorded Live in 1974
Released on Polygram 831 694-2
4. Vocal by Johnny Mathis (3:54)
Arranged by D'Arneill Pershing
Released in 1975 on Columbia Records CQ-44320
5. Vocal by Helen Reddy (2:54)
Arranged by Nick DeCaro
Released in 1976 on Capitol Records 11547
6. Vocal by Rosemary Clooney (4:23)
Arranged by Del Newman
Released in 1977 on United Artists Records UAS 30008
7. Performed by Croad Terry Grand Orchestra (3:35)
Arranged by Shoji Yokouchi
Released in 1979 on Denon SX-7006
8. Performed by Earl Klugh (3:01)
Arranged and Conducted by Dave Mathews
Released in 1980 on Liberty Records LT-1079
9. Performed by Gary LeMel (3:00)
Arranged and Conducted by Randy Waldman
Released in 1994 on Blue Note Records 29479
10. Vocal by Freddy Cole (5:26)
Arranged by Freddy Cole, Larry Willis and Steve Berrios
Released in 1996 on Fantasy Records FCD 9674-2
11. Performed by Fred Karlin and Band (5:38)
Arranged by Fred Karlin
Released in 1997 on Varese Sarabande Records VSD 5760
12. Performed by Martin Stempel and Band (4:57)
Olaf Schümann, guitar/Jörn Henrich, bass//Stefan Leibinger, drums
Recorded live at the Bebop Bar, Berlin-Kreuzberg on December 13, 2003
13. Performed by Martin Stempel and Band (5:18)
Olaf Schümann, guitar/Bene Jahnel, piano//Rudolfo Paccapello, bass/Stefan Leibinger, drums
Recorded in 2004 (promotional recording)
14. Performed by The National Youth Jazz Orchestra (4:02)
Soprano Sax soloist: Phil Knights,
Orchestra conducted by Evan Jolly
Arranged by Evan Jolly
Released in 2004 on Silva Screen Records FILMCD 371
15. Performed by David Regele, piano (3:11)

16. Vocal by Paul Williams (4:23)
John Sanders, keyboards & saxophone//Chris Caswell, piano, keyboard and bass pedals
Recorded Live in Japan in 2003
Released in 2006 on "Love Wants to Dance" CD
---
Cinderella Liberty 2-CD edition (Complete Motion Picture Score and Songs)
CD 1: the complete score as used in the film
CD 2: 16 cover recordings of "Nice To Be Around"
For the complete score two sources were used: The DVD release and a TV broadcast of the film. The reason for the use of the latter is that the opening track, a source cue using a Sousa march, isn't the same in the original film release as on the DVD. The original, with little sfx and dialogue, comes as a bonus track.
---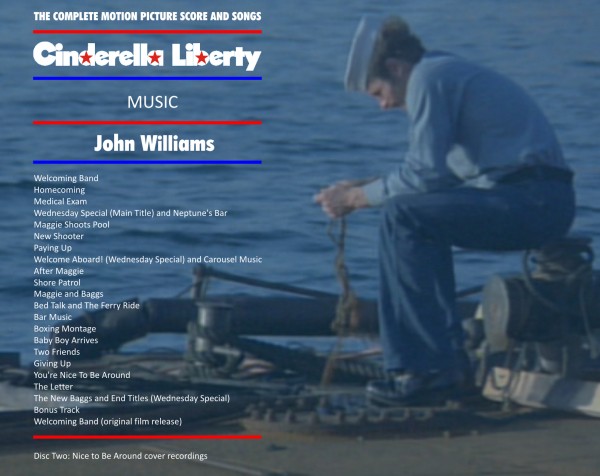 Artwork by Miguel Andrade
---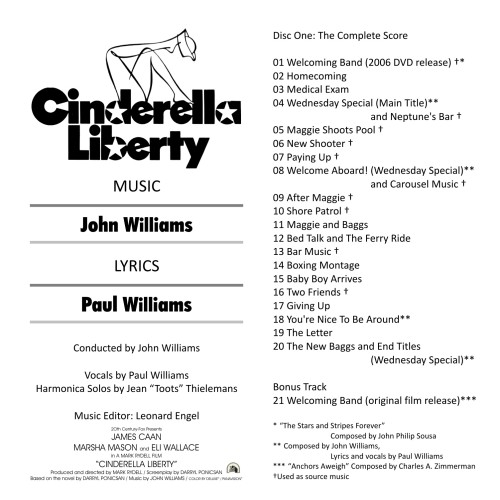 ---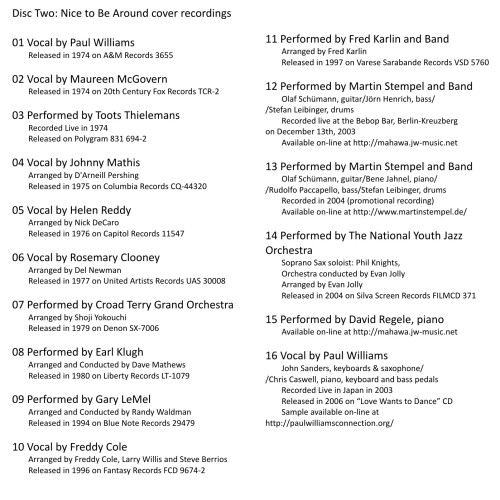 ---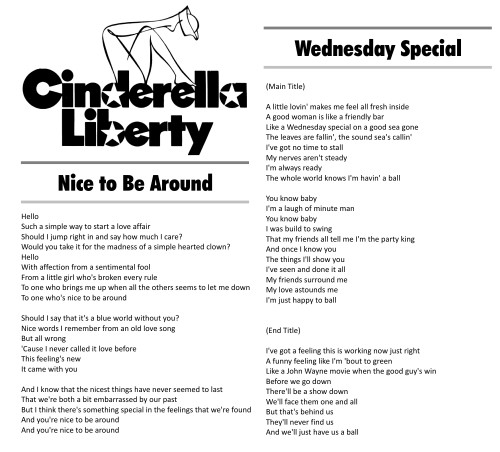 ---