---
Track Listing
Side 1
1. Main Title and Mountain Visions (3:13)
2. Nocturnal Pursuits (2:31)
3. The Abduction of Barry (4:28)
4. I Can't Believe it's Real (3:18)
5. Climbing Devil's Tower (2:05)
6. The Arrival of Sky Harbor (4:27)

Side 2
7. Night Siege (6:18)
8. The Conversation (2:19)
9. The Appearance of the Visitors* (4:49)
10. Resolution and End Title (6:51)

Bonus Gimmick:
Special Complementary Single "Theme from CE3K" (3:13)

* "When You Wish Upon A Star" interpolated
---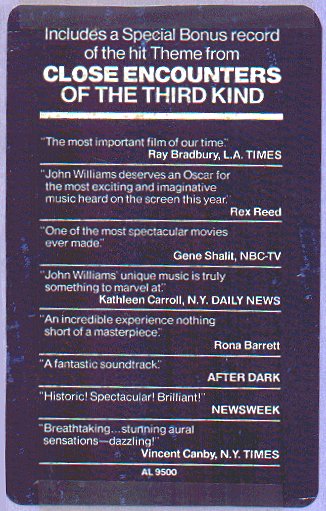 ---
Liner Notes
One day John Williams told me something I never would have imagined... that creating a musical score for a nearly compeleted motion picture is far and away more frustrating than creating an original symphonic composition that never has to conform to the beats, measures, and boundary layers of a screen story, but instead flows freely from the composer's imagination as he tells his own story from start to finish. This is perhaps why much of John's music for Close Encounters of the Third Kind is so airborne and awe inspiring. He actually started work on musical ideas two years before Close Encounters was finalized, basing his impressions on the unfinished script and dinner conversations we would have twice a week.

In many instances, John wrote his music first, while I put the scenes to it much later. Because of the complicated special effects that adorn the final 35 minutes of Close Encounters of the Third Kind, John found himself composing to blank leader months before the effects were finished and cut in. This was a challenge to both of us, but it liberated John to score freely - sans coitus interruptus - and inspired me in reconstructing certain visuals to the final music.

John became more than just a composer for hire. He was a creative collaborator in all phases of post production, spending every day for fifteen weeks in the mixing studio and editing rooms. He taught me about underrated Russian composers and good German wines, and I taught him how to pace the hallways and how to eat junkfoods.

John's freedom of choice is evident in every selection on this album. Once again John Williams has taken a motion picture and interwoven his own musical story - telling skills to create higher levels of beauty and suspense His music for Close Encounters goes beyond simply allowing the listener to recall his favorite scenes but stands on its own as a serious symphonic achievement - timeless and without restraints.

Steven Spielberg, Director
---