---
Track Listing
1. Catch Me If You Can (2:41)
2. The "Float" (4:56)
3. "Come Fly With Me" (3:19)
- Frank Sinatra
4. Recollections (The Father's Theme) (5:16)
5. The Airport Scene (2:26)
6. "The Girl Form Ipanema" (5:15)
- Stan Getz & Joao Gilberto feat. Antonio Carlos Jobim
7. Learning the Ropes (8:44)
8. Father and Son (3:15)
9. "Embraceable You" (2:50)
- Judy Garland
10. The Flash Comics Clue (1:47)
11. Deadheading (2:25)
12. "The Christmas Song" (3:10)
- Nat King Cole
13. A Broken Home (4:25)
14. Doctor, Lawyer, Lutheran (3:12)
15. "The Look Of Love" (3:31)
- Dusty Springfield
16. Catch Me If You Can (Reprise and End Credits) (5:14)
Saxophone Solos: Dan Higgins
Vibraphone Solos: Alan Estes
Music Editor: Ken Wannberg
Music Recorded and Mixed by Shawn Murphy
---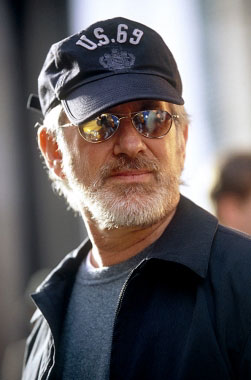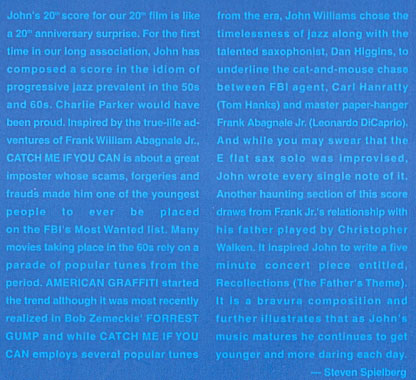 ---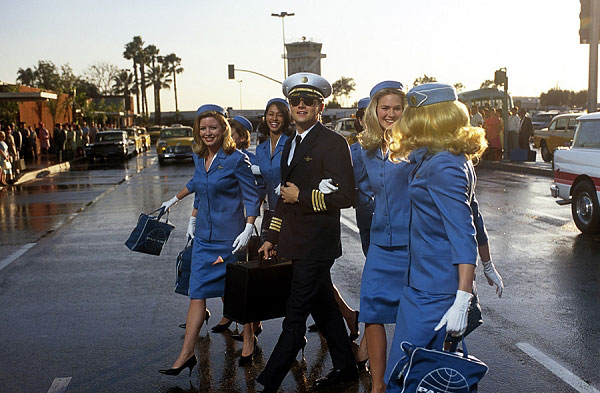 ---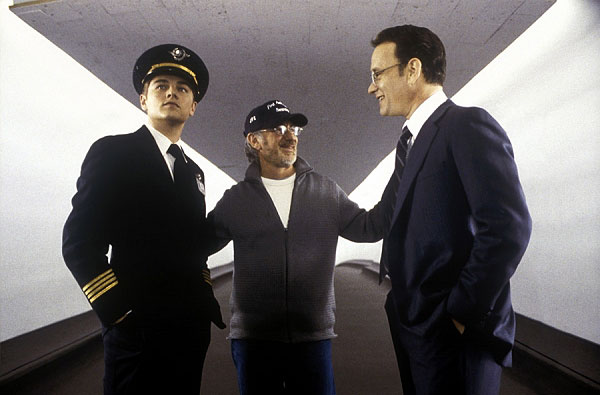 ---
Interview with John Williams
(from the Official Catch Me If You Can Soundtrack Press Release)
"This is an interesting deviation for both of us," says Oscar and Grammy winner John Williams of his score and the soundtrack to Steven Spielberg's latest work, the DreamWorks Pictures film Catch Me If You Can. "It's always fun to deviate from the norm."
Catch Me If You Can: Original Motion Picture Soundtrack marks the 20th Spielberg-directed project for which Williams has composed and conducted music, but it's the first to feature a progressive jazz score.
Also produced by Williams, the album is likewise the first Spielberg/Williams collaboration to include source songs, original recordings contemporaneous with the period captured in the film. They include "Come Fly With Me" (sung by Frank Sinatra), "The Christmas Song" (Nat King Cole), "The Look Of Love" (Dusty Springfield), "Embraceable You" (Judy Garland) and "The Girl From Ipanema" (Stan Getz and Joao Gilberto, featuring Antonio Carlos Jobim and Astrud Gilberto).
Oscar nominee Leonardo DiCaprio ("What's Eating Gilbert Grape," "Titanic") and two-time Academy Award winner Tom Hanks ("Philadelphia," "Forrest Gump") engage in a game of cat and mouse in "Catch Me If You Can," under the direction of three-time Academy Award winner Steven Spielberg ("Saving Private Ryan," "Schindler's List").
Frank W. Abagnale (Leonardo DiCaprio) worked as a doctor, a lawyer and a co-pilot for a major airline – all before his 21st birthday. A master of deception, he was also a brilliant forger whose skill at check fraud netted him millions of dollars in stolen funds. FBI Agent Carl Hanratty (Tom Hanks) has made it his prime mission to capture Frank and bring him to justice, but Frank is always one step ahead of him, baiting him to continue the chase.
The film also stars Academy Award winner Christopher Walken ("The Deer Hunter"), Golden Globe winner Martin Sheen (TV's "The West Wing"), Nathalie Baye, Amy Adams, James Brolin, Brian Howe, Frank John Hughes and Golden Globe winner Jennifer Garner (TV's "Alias"). It premieres nationally Dec. 25.
"Catch Me If You Can is largely set in the early '60s," Williams explains, "and Steven has achieved such a fantastic recreation of the period, from the dress to the cars to the rest of American life, that we wanted to capture the musical tone of the period just as precisely.
"Back then, progressive jazz meant something different than it does today. It was the hip, upscale, jazz sound of the time. It was Dave Brubeck. It was Art Pepper and Lee Konitz. In the '40s, Charlie Parker was progressive jazz, and other alto sax players like Pepper and Konitz were the children of Parker. I was even a minor practitioner myself in the late '50s, playing piano with Shelly Manne and o­n recording sessions. So this is actually a happy, healthy and welcome regression for me."
Catch Me If You Can showcases saxophone solos that have been developed beyond what is heard in the film. The soloist is Dan Higgins. "I needed a brilliant player," says Williams, "and Dan is a true bright light on sax." Higgins previously played with Williams at a Hollywood Bowl concert and at the 2002 Academy Awards ceremonies. He is perhaps the most sought-after session sax player in the country. Higgins' extensive credits range from his work with Aerosmith and Christina Aguilera to Natalie Cole, Al Jarreau, Barry Manilow and Luis Miguel.
A few of Williams' other scores for Spielberg have also veered from the majestic, large-orchestra timbre that is the composer's signature, including the more intimate chamber orchestra with solo violin of "Schindler's List" and the broad burlesque of 1941. The Catch Me If You Can score, however, might not have taken the direction it did if it hadn't been for the animated sequence that opens the film.
"I always seem to come to the best conclusions later in the creative process," says Williams. "I wrote a lot of material for this film that I didn't use. I kept searching for some key." The key began to emerge when he wrote a piece hinting at progressive jazz, recorded a demo of it and laid it atop a work-in-progress version of that animation.
Suddenly, progressive jazz also presented itself for the theme for Abagnale's father, a central composition titled "Recollections (The Father's Theme)." Williams then rearranged its original strings-and-piano incarnation to spotlight alto sax, an instrument that has not been significantly employed in film scoring for years.
Soon saxophone formed the musical bedrock for the movie's scam and crime-busting scenes. "Hence the score," says Williams matter-of-factly. "I hope it's witty; it's meant to be tongue-in-cheek."
Indeed, an impish sensibility surfaces with the appearance of the source song "Come Fly With Me." Played over an airport scene, the track conjures a time when airline travel was glamorous. Passengers would dress in their Sunday best for a trip to the airport. Flight attendants were called stewardesses.
According to Williams, Spielberg personally chose the songs. "In the past, rather than use historical source material, I would create original music in a pastiche style," Williams confirms. "But these songs belong so fully to the mainstream culture of the time that it just made sense to use them."
Nonetheless, Williams made sure his score music echoed the ambience of this material. "When you do a period piece," he says, "you have to be aware that every era has its own favorite harmonic progressions. Yes, there are o­nly 12 semi-tones in Western music, but time and place dictate a great variety in the musical grammar. Tapping that is o­ne of the key tools a film composer uses to create atmosphere."
Williams has created aural atmospheres for Steven Spielberg for all but o­ne of his films (1985's The Color Purple). Along with the 19 feature films they've done together, Spielberg directed and Williams wrote the music for the documentary The Unfinished Journey, which premiered at America's Millennium Celebration at the Lincoln Memorial in Washington, D.C., on Dec. 31, 1999. The year 2002 marks three decades of collaboration for the pair.
Attests Williams: "Thirty years is remarkable. It's not something you plan; it just evolves. There's a sympathetic match of personalities and shared interests and Steven and I have clearly struck a comfort level. I feel very lucky."
(Thanks to JWFAN.net!)
---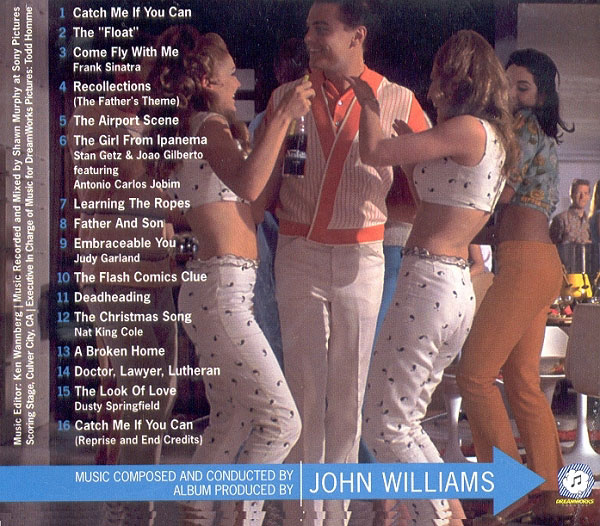 ---