---
Steven Higgs plays the piano and contributes frequently to the Piano Solos section of my website. He had the good fortune of meeting John Williams backstage after Mr. Williams had guest-conducted the Boston Pops at Symphony Hall on May 22, 2007.
---
What an occasion, opportunity and "full-circle" surreal moment, to stand face to face and shake the hand of an icon in modern music... a part of history IN film music standing before me for oh about 5 minutes (felt like a stretch of longer time) he spoke about the concert of the evening (filled with queues from his themes/scores, i.e. Superman, Harry Potter, E.T., Raiders of the Lost Ark, Fiddler on the Roof, Jaws, and of course Star Wars) and told him how honored I was and thankful for his music, what a wonderful opportunity it was.
Max Hobart (--the father of a student I teach jazz piano to, and thus passed along to her dad I was a fan, and got tickets, etc.---) who was once first-chair-violinist/ concertmaster FOR the Pops under most of Williams' run as Pops conductor (and even several years under Arthur Fiedler) had provided me with the chance TO go backstage like that (up to Williams' little dressing room-- with piano-- no, I didn't get to play for him--- he looked REAL tired) after the concert, because of his long-standing friendship/connection. They traded a small story of when Max had to 'cover' for Williams one time in Tanglewood because he was sick, and with only a few hours, Max had to conduct "ET", a suite from "The Reivers" (with Burgess Meredith narrating) and several other pieces.....and in that conversation backstage, Williams lit up smiling and saying Max saved the day, yes. Nice to see that happen and him recount the story and music from the concert--- while making eye contact with him, and shaking his hand in greeting him and departing.

My sister, Kathi, came and she took pictures ... yes, I was there!
---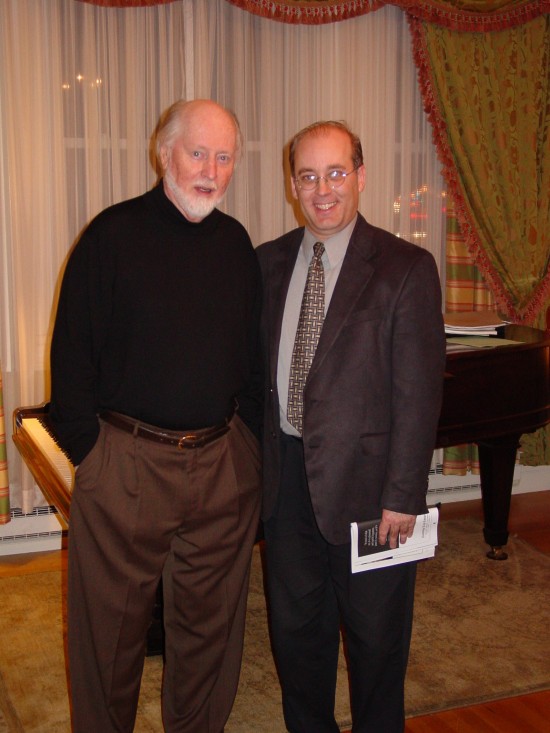 ---