---
Track Listing
STAR WARS
20th Century Fox Fanfare (0:20) (not credited)
1. Main Title (5:12)
2. Princess Leia's Theme (4:22)
3. Here They Come (2:04)

THE EMPIRE STRIKES BACK
4. The Asteroid Field (4:17)
5. Yoda's Theme (3:16)
6. The Imperial March (2:52)

RETURN OF THE JEDI
7. Parade of the Ewoks (3:31)
8. Luke and Leia (5:57)
9. Fight With Tie Fighters* (4:31)
10. Jabba the Hut (3:58)
11. Darth Vader's Death* (2:50)
12. The Forest Battle (4:06)
13. Finale (3:11)

* Only Available Recording (at that time)
Jeffrey Kirschon, Horn Soloist
Edmund Cord, Coronet Soloist
Gene Pokorny, Tuba Soloist
---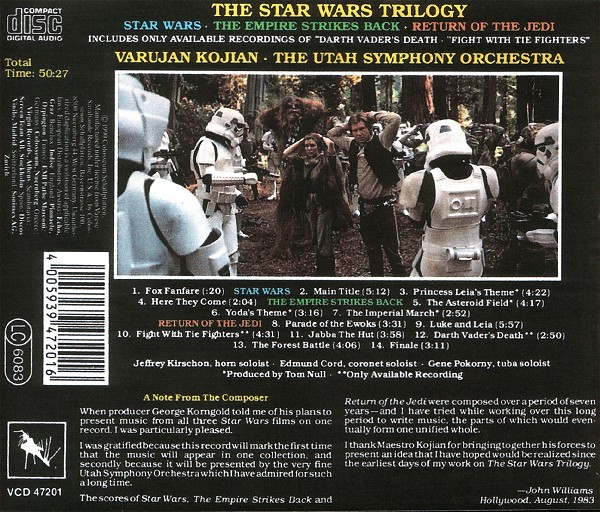 ---
A Note From The Composer

When producer George Korngold told me of his plans to present music from all three Star Wars films on one record, I was particularly pleased.

I was gratified because this record will mark the first time the music will appear in one collection, and secondly because it will be presented by the very fine Utah Symphony Orchestra which I have admired for such a long time.
The scores of Star Wars, The Empire Strikes Back and Return of the Jedi were composed over a period of seven years — and I have tried while working over this long period to write music the parts of which would eventually form one unified whole.

I thank Maestro Kojian for bringing together his forces to present an idea that I have hoped would be realized since the earliest days of my work on The Star Wars Trilogy.


John Williams
Hollywood, August 1983
---