---
Track Listing
CD 1 (53:38)
A Tribute to David Lean
1. Introduction (3:23)
2. Prelude from Blithe Spirit (5:06)
3. Commentary (5:38)
4. Excerpts from The Bridge on the River Kwai (4:03)
5. Commentary (3:10)
6. Excerpts from the Passage to India (3:47)
7. Commentary (1:51)
8. Three Pieces from Oliver Twist (7:38)
9. Commentary (2:38)
10. Excerpts from Doctor Zhivago (5:39)
11. Commentary (4:04)
12. Excerpts from Lawrence of Arabia (5:51)
13. Intermission (0:50)
CD 2 (59:53)
The Magic of Harry Potter
1. Introduction (3:49)
2. Hedwig's Theme (5:12)
3. Commentay (3:05)
4. Aunt Marge's Waltz (2:11)
5. Commentary (1:22)
6. Diagon Alley (3:25)
7. Commentary (1:12)
8. The Knight Bus (2:58)
9. Commentary (1:09)
10. Fawkes the Phoenix (3:37)
11. Commentary (0:55)
12. Nimbus 2000 (2:11)
13. Commentary (1:04)
14. Quidditch (1:54)
15. Commentary (0:57)
16. The Chamber of Secrets (3:30)
17. Commentary (0:58)
18. A Bridge to the Past (3:30)
19. Commentary (1:37)
20. Harry's Wondrous World (4:52)
21. Applause (3:40)
22. ENCORE Flying Theme from E.T. (3:52)
23. Closing (2:53)
---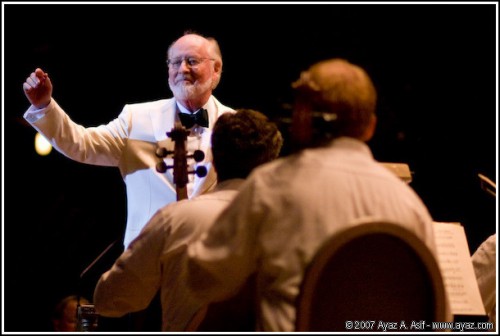 ---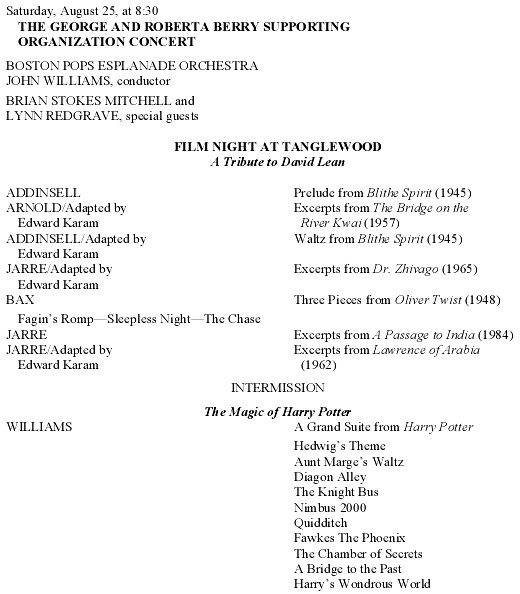 ---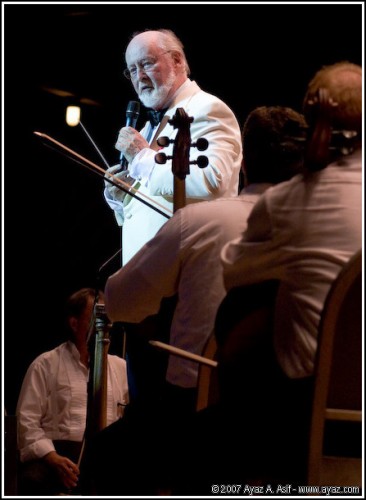 ---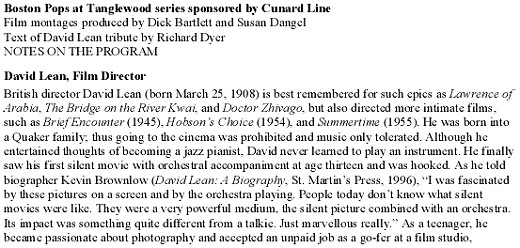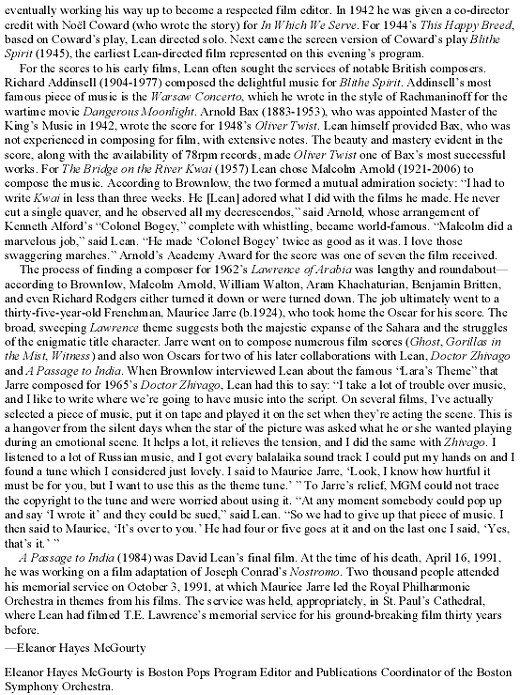 ---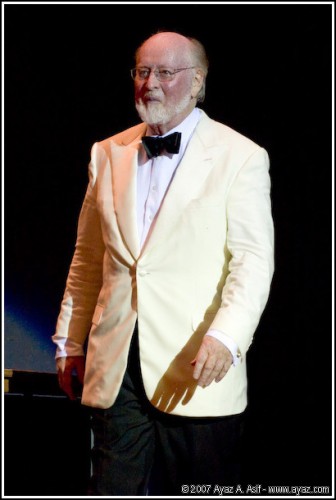 ---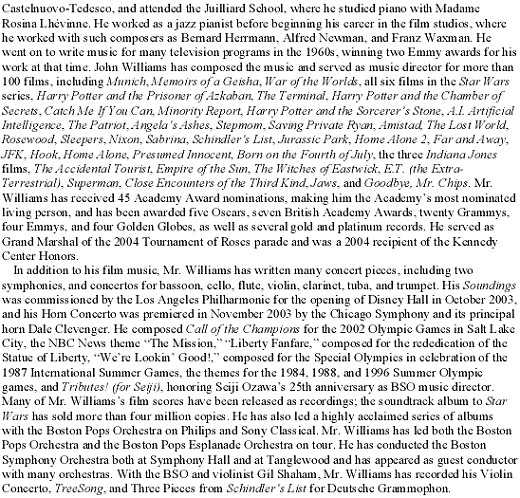 ---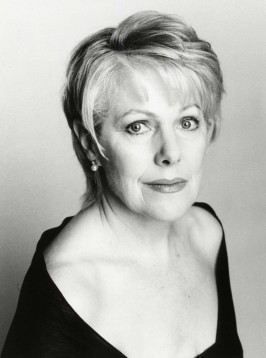 Lynn Redgrave
---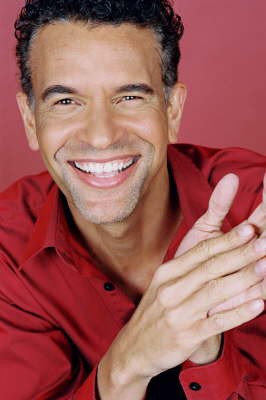 Brian Stokes Mitchell
---
Berkshire Eagle Online, Aug 27, 2007
(...) Another Pops tradition is the annual Film Night conceived by Pops Laureate Conductor John Williams nine years ago. Guest narrators were added to the usual mix of music and screened snippets for a Saturday-evening crowd that looked to exceed 15,000.
The revered British director David Lean was honored through a career retrospective that included excerpts from a half dozen of his best-known films.
Stokes, conveniently on campus, served as an effective, enthusiastic narrator for an eloquent mini-biography written by The Boston Globe's retired music critic Richard Dyer. British composer Richard Addinsell of "Warsaw Concerto" fame scored Lean's second film, "Blithe Spirit," the 1945 adaptation of Noel Coward's play. Arnold Bax supplied the music for "Oliver Twist" in 1948, but both lack impact as concert works — apparently no film excerpts were available for screening.
In 1957, Lean embarked on a series of sprawling, historical epics that have long been abandoned by Hollywood. Malcolm Arnold's music for "The Bridge on the River Kwai," incorporating the famous "Colonel Bogey" march written in 1914 by a British military band leader, is grandiloquent, as befits the film's story line, and the Pops performed the excerpts with precision as scenes from the film flashed by.
Three of Lean's greatest films, "Dr. Zhivago," "Lawrence of Arabia" and "A Passage to India," were greatly enhanced by the melodic and atmospheric scores of French film composer Maurice Jarre. This was the most successful segment of the Lean tribute, although the on-screen montages were washed out, diluting the impact of the sweeping, colorful cinematography.
The veteran British actress Lynn Redgrave was an ideal choice to describe the scenes and characters inhabiting J.K. Rowling's supersuccessful Harry Potter series. As voiced by Redgrave, with crisp articulation and intense enthusiasm, the uncredited script served as an ideal primer for those pitiable few of us who have never entered Potter's phantasmagorical world of sorcery and witchcraft.
Williams composed memorably descriptive, inspired music for the first two "Potter" films. At his best, he has a keen sense of place and time, of wonder and awe that translates well to cinematic epics that revel in special effects and imaginative fantasy worlds.
Assembled as a "Grand Suite," the 10 selections include "Hedwig's Theme," "Fawkes the Phoenix" and "Harry's Wondrous World," three of Williams' most inspired compositions for Hollywood. The cheering crowd was rewarded with Film Night's usual encore, the Flying Theme from "E.T.," ending a rewarding evening on a high note.
---