---
Track Listing
1. Raiders of the Lost Ark: The Raiders' March (5:11)
2. Always: Theme (5:31)
3. E.T.: Adventures on Earth (9:47)
4. Sugarland Express: Theme (3:36)
Toots Thielemans, Harmonica
5. Jaws: Theme (2:57)
6. Jaws: Out to Sea/The Shark Cage Fugue (4:23)
7. Empire of the Sun: Exsultate Justi (4:57)
American Boychoir (James H. Litton, Music Director)
Tanglewood Festival Chorus (John Oliver, Director)
8. Indiana Jones and the Temple of Doom: Parade of the Slave Children (4:52)
9. E.T.: Over the Moon (2:11)
10. 1941: March (4:12)
11. Empire of the Sun: Cadillac of the Skies (4:59)
12. Indiana Jones and the Last Crusade: Scherzo for Motorcycle and Orchestra (2:48)
13. Close Encounters of the Third Kind: Excerpts (9:47)

---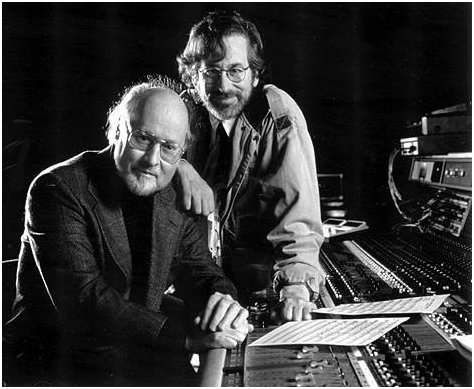 John Williams, Steven Spielberg


Liner Notes
I want to salute John Williams - the quintessential film composer. John has transformed and uplifted every movie that we've made together. As his works are performed on this recording with the artistry of the Boston Pops Orchestra, I think you'll hear what I mean. For instance, who would have imagined the mood that two simple notes, in a heartbeat rhythm, could create. To this day, just hearing those two notes from Jaws (1975) immediately conjures shark, adrenaline, and second thoughts about swimming. John's music became the character. But the magic of John's music, supporting the picture is one thing; the other is the loveliness and power of the music itself.
In 1974 Universal Pictures gave me a go-ahead to direct my first feature film. I had signed Goldie Hawn to star in this movie, which was based on a true story that took place in southwest Texas. I wanted a certain sound: music I had heard in the movies The Reivers and Cowboys, both scored by John Williams.
We met, and, to my good fortune, he agreed to do the film. He wrote a most haunting and wonderful theme so evocative of that part of Texas. He chose harmonica as solo voice for his composition and brought the world's most celebrated harmonica player, Toots Thielemans, to our recording session. And here Toots recreates that theme from our first collaboration, Sugarland Express (1974).
In the next year, for Jaws, John composed music for the boat ride that took Richard Dreyfuss and his crew in search of the shark--a truly great orchestral piece on its own. The scene ends as Dreyfuss meets his nemesis from his fragile sea-locked cage. John calls this "Out to Sea" and "The Shark Cage Fugue." John received his second Academy Award for Jaws (his first was for the orchestration of Fiddler on the Roof in 1971).
Immediately after Jaws, our next venture was Close Encounters of the Third Kind (1977). The challenge posed to John this time was quite literally from another world. How should mankind communicate with this mesmerizing spaceship? John wanted something that was a kind of signal or musical beacon--he felt that anything longer than five notes was too close to a melody. As simple and natural as that theme now seems, it was anything but simple to compose. We consulted a mathematician who warned us that there are at least 250,000 ways to combine five notes! Undaunted, John created his inspired combination. Out of these five notes, John went on to compose a finale filled with awe, affection and reverence, a musical blessing for the transcendent encounter between humans and extraterrestrials.
For the motion picture 1941 (1979), I posed yet a whole different challenge to John: A World War II comedy spectacle about the imagined panic in Los Angeles after the invasion of Pearl Harbor. This was a larger-than-life, special effects movie of a war being fought on the beaches of Malibu. John composed a spirited march which when played in the studio sounded so good that I went home, grabbed my clarinet and joined the clarinet section to make sure the end result was just ragged enough. Despite my efforts, the March survived and contributed great fun to this bizarre invasion.
For Raiders of the Lost Ark (1981), Indiana Jones and the Temple of Doom (1984), and Indiana Jones and the Last Crusade, John rousingly heightened the spirit of adventure, wit and suspense. But, again, the power of his music, outside the context of the films, valiantly speaks for itself.
Before John records a score, he sees a final cut of the movie to make sure that his music will perfectly punctuate every scene change and mood. When he records, the orchestra sits in front of a large screen showing the film so that he can conduct the music to the picture.
In the case of E.T. (1982), John asked that we simply let him perform his theme without trying to measure it closely with the edited film. We shut off the projector and John performed the theme for E.T., just letting the spirit come from his heart. It worked so well that we took the last scene back to the editing room and conformed out pictures to John's interpretive conducting. This score won him his fourth Academy Award (the third was for Star Wars), and my continued admiration and gratitude.
The range and variety of John's music is extraordinary. While often powerful in adventure scenes, or even jubilant as in the chorus "Exsultate Justi" from Empire of the Sun (1987), his most poignant moments capture the tenderness and aspirations of the human spirit, sometimes gentle, sometimes soaring to lush heights, no more so than in "Cadillac of the Skies" from Empire of the Sun and in his theme from Always (1989).
John is the poet in me. He makes me look so good each time out. We've been friends and colleagues for seventeen years. He's been my partner in film, my partner in music and my friend in life.
Steven Spielberg
---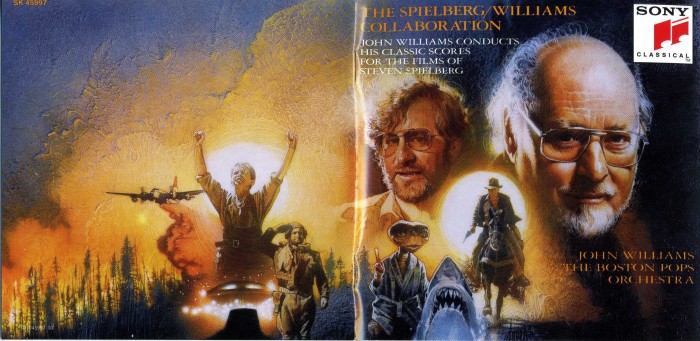 ---