---
Concerto for Violin and Orchestra
1. Moderato (12:28)
2. Adagio (9:54)
3. Maestoso-Presto (10:05)
John Williams' first wife Barbara Ruick died in 1974. He then began composing this Violin Concerto and completed it in 1976, dedicating it to her memory.
First performance: January 29, 1981
St. Louis Symphony Orchestra
Conductor: Leonard Slatkin
Violin Soloist: Mark Peskanov
This recording: December 13, 1981
London Symphony Orchestra
Conductor: Leonard Slatkin
Violin Soloist: Mark Peskanov
---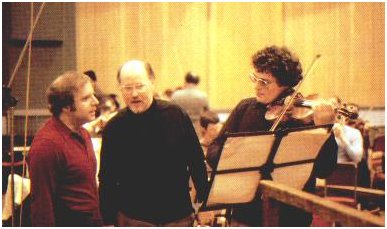 Leonard Slatkin, John Williams, Mark Peskanov
Liner Notes

The 20th century has been an extremely rich period in the production of violin concertos. It is a period in which we have been given masterpieces of the genre by Bartók, Berg, Elgar, Prokofiev, Stravinsky, Walton and others. These works have set a very high standard for any composer wishing to contribute a piece of this kind. However daunting these examples of the recent past may be, the medium of the violin concerto continues to fascinate. The violin itself remains an instrument of enormous expressive power, and the urge to contribute to its repertoire is great.

With these thoughts in mind, I set to work laying out my concerto in three movements, each with expansive themes and featuring virtuosic passage work used both for effective contrast and display. The pattern of movements is fast, slow, fast, with a cadenza at the end of the first movement. Although contemporary in style and technique, I think of the piece as within the romantic tradition.

The first movement starts with an unaccompanied presentation, by the solo violin, of the principal theme, which is composed of broad melodic intervals and rhythmic contour, in contrast with the more jaunty second subject. Orchestra and soloist share the exploitation of this material, and after the solo cadenza the movement is brought to a quiet conclusion.

The second movement features an elegiac melodic subject. While this melody is the central feature of the movement, there is, by way of contrast, a brisk middle section based on rushing "tetrachordal" figures that are tossed back and forth between soloist and orchestra. The mood of the opening is always present, however, as the rushing and playing about continue to be accompanied by hints of a return to the movement's more introspective opening.

The finale begins with chiming chords of great dissonance from the orchestra, all of which pivot around a G being constantly sounded by the trumpet. The solo part commences immediately on a journey of passagework in triple time that forms a kind of moto perpetuo which propels the movement. In rondo-like fashion, several melodies emerge until insistent intervals, borrowed from the first movement, form to make up the final lyrical passage "sung" by the solo violin. An excited coda, based on the triple-time figures, concludes the work.

I began composing the concerto in 1974, finishing it October 19, 1976. It is dedicated to the memory of my late wife.
John Williams
---