---
Track Listing
7 for Luck
1. "Song" (Dialogue Rita Dove-John Williams) (3:59)
2. Song (Cynthia Haymon and the Boston Pops) (3:23)
3. "Chocolate" (Dialogue Rita Dove-John Williams) (2:58)
4. Chocolate (Cynthia Haymon and the Boston Pops) (1:40)
5. "Black On A Saturday Night" (Dialogue Rita Dove-John Williams) (2:01)
6. Black On A Saturday Night (Cynthia Haymon and the Boston Pops) (2:22)
7. Poem: "Soprano Voice" (Read by Rita Dove) (0:55)
Dry Your Tears, Afrika
8. Live Performance with Children's Choir (3:27)
(Introduction by Rita Dove)
A Celebration upon John Williams' Retirement
as Music Director of the Boston Pops Orchestra after 14 seasons
9. Henry Mancini (1:24)
10. Andre Previn (1:10)
11. Leslie Bricusse (1:14)
12. Can You Read Our Minds
(The Tanglewood Festival Chorus) (2:34)
13. Christopher Reeves (1:30)
14. Jessye Norman: All The Things You Are (4:44)
15. Itzhak Perlman (1:17)
16. Richard Dreyfuss (5:26)
17. John Williams Medley (7:34)
CBS Sunday Morning Interview (On John Williams' Retirement):
(with Eugenia Zukerman)
18. Interview and Excerpts (7:32)
"We're Lookin' Good!"
19. Introduction by John Williams (0:30)
20. Live Performance: "We're Lookin' Good!" (5:20)
America, The Dream Goes On
21. John Denver & Chorus: America, The Dream Goes On (4:38)
Two Preludes by George Gershwin
(performed live at Monticello)
- Joshua Bell, violin
- John Williams, piano
22. Prelude #1 (1:37)
23. Prelude #2 (1:12)
---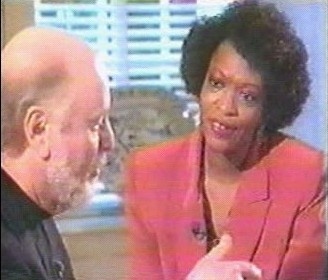 John Williams and Rita Dove
Lyrics: 7 for Luck
Song
When I was young, the moon spoke in riddles
and the stars rhymed. I was a new toy
waiting for my owner to pick me up.
When I was young, I ran the day to it's knees.
There were trees to swing on, crickets for capture.
I was narrowly sweet, infinitely cruel,
tongued in honey and coddled in milk,
sunburned and silvery ans scabbed like a colt.
And the world was already old.
And I was older than I am today.
Chocolate
Velvet fruit, exquisite square
I hold up to sniff
between finger and thumb
how you numb me
with your rich attentions!
If I don't eat you quickly,
you'll melt in my palm.
Pleasure seeker, if I let you,
you'd liquefy everywhere.
Knotted smoke, dark punch
of earth and night and leaf,
for a taste of you
any woman would gladly
crumble to ruin.
Enough chatter: I am ready
to fall in love!
Black on a Saturday Night
This is no place for lilac
or somebody on a trip
to themselves. Hips
are an asset here, and color
calculated to flash
lemon bronze cerise
in the course of a dip and turn.
Beauty's been caught lying
and the truth's been rubbed raw:
Here, you get your remorse
as a constitutional right.

It's always what we don't
fear that happens, always
not now and whay are
you people acting this way
(meaning we put in petunias
instead of hydrangeas and reject
ecru as a fashion statement).

But we can't do it - naw, because
the wages of living are sin
and the wages of sin are love
and the wages of love are pain
and the wages of pain are philosophy
which leads definitely to an attitude
and an attitude will get you
nowhere fast so you might as well
keep dancing dancing till
tomorrow gives up with a shout,
'cause there is only
Saturday night, and we are in it—
black as black can,
black as black does,
not a concept
nor a percentage
but a natural law.
The other poems that inspired John Williams
for this cycle of songs are
Adolescence
Serenade
Expecting
Starting Over
by Rita Dove
---