---
Track Listing
1. John Williams Interview: On for Seiji! (2:55)
2. John Williams Interview: On the Boston Symphony (0:52)
3. Introduction and Concert Notes (1:03)
4. for Seiji! (9:48)
5. Ovation and Final Commentary (1:13)
6. John Williams Interview: On Seiji Osawa's Youthfulness at the Podium (1:01)
7. John Williams Interview: On for Seiji! (1:13)
8. John Williams Interview: On Seiji Osawa and his Achievements (0:39)
---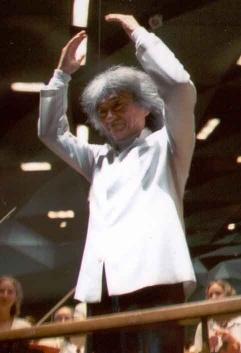 ---
for Seiji! is a collection of musical thoughts and jottings that form a kind of Festschrift* for orchestra, which has been written for Seiji Osawa and the Boston Symphony Orchestra as they celebrate twenty-five years of artistic collaboration. These jottings also form little portraits of just a few of the great soloists in the orchestra's ranks, and, at other moments, sketches of entire sectional groups. I've attempted to "freeze-frame" some of the wonderful sonorities the orchestra produces that are among my personal favorites.
The piece is based on the interval of a major second, which, like its sister interval, the seventh, has to be constantly tuned and retuned in performance, according to its modal and harmonic context. Musicians make these adjustments intuitively, and the tuning of this small interval is one of the great secrets of good orchestral intonation, which is, in turn, a prerequisite to making a beautiful sound.
The piece opens with sonorous brass intoning a low "D", which in my mind is a kind of signature pitch level of the Boston Symphony as its sound resonates with the empathetic and all-knowing walls of Symphony Hall. The strings then sound the secundal "E" and we proceed from there, as a five-note melodic idée fixe carries us along.
I've dedicated all of this to Seiji, who has not only led the orchestra but has tended and nourished it through these many years, thus preserving and invigorating a great tradition. These few notes are but a small tribute to Seiji and the great Boston heritage we all so rightly treasure.
John Williams
* A Festschrift (German for "festival-writing") is, in a literal sense, a collection of writings published in tribute to its honoree.
---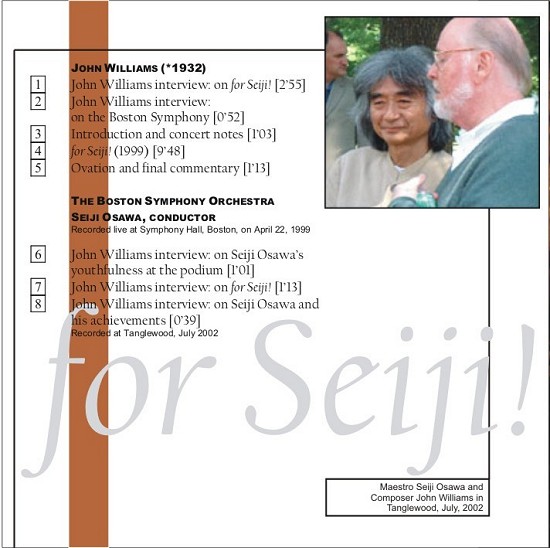 ---