---
HOUSTON SYMPHONY PERFORMS MUSIC OF JOHN WILLIAMS AND SERGEJ RACHMANINOFF
Track Listing
CD 1 (50:53)
1. Vaughn Williams: Fantasia on a Theme of Thomas Tallis (15:30)
2. Telephone Interview with John Williams (Part I) (2:33)
3. Introduction by Peter Oundijan and William VerMeulen (4:06)
John Williams
Concerto for Horn and Orchestra
4. I. ANGELUS
"Far far away, like bells at evening pealing"
5. II. THE BATTLE OF THE TREES
"Swift Oak ... Stout Guardian of the Door"
6. III. PASTORALE
"There Came a Day at Summer's Full"
7. IV. THE HUNT
"The Heart Loves the Highwood"
8. V. NOCTURNE
"The Crimson Day Withdraws"
9. Telephone Interview with John Williams (Part II) (2:19)
CD 2 (36:58)
John Williams
1. Celebration Fanfare (1:47)
Sergej Rachmaninoff
Symphonic Dances
2. Non allegro (11:38)
3. Andante con moto (Tempo di valse) (9:45)
4. Lento assai - Allegro vivace (13:48)
---
Concerto for Horn and Orchestra
- Composed for Dale Clevenger and the Chicago Symphony Orchestra in 2003,
on a commission from the Edward F. Schmidt Family Commissioning Fund.
- The orchestra consists of three flutes and piccolo, three oboes and english horn,
three clarinets and bass clarinet, three bassoons and contrabassoon, four horns,
three trumpets, three trombones and tuba, timpani, percussion, harp, piano,
celesta, and strings.
- The concerto was premiered by the Chicago Symphony Orchestra,
conducted by John Williams, on November 29, 2003.
---
Celebration Fanfare
- Written for the 150th anniversary of Texas' Declaration of Independence.
- The first public performance by the Houston Symphony Orchestra
conducted by Sergiu Comissiona was on September 6, 1986.
---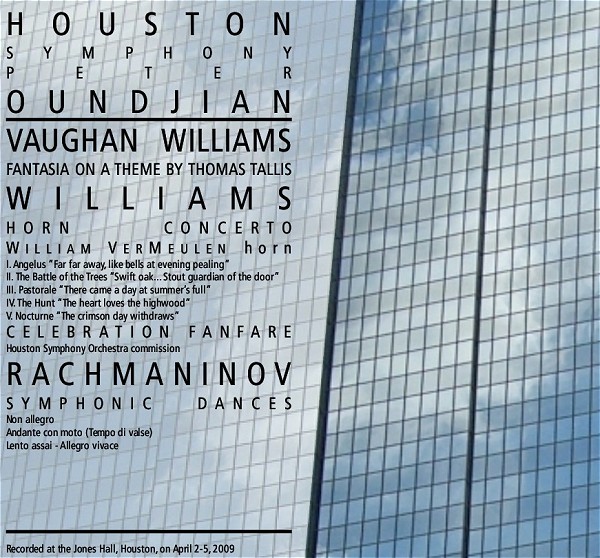 ---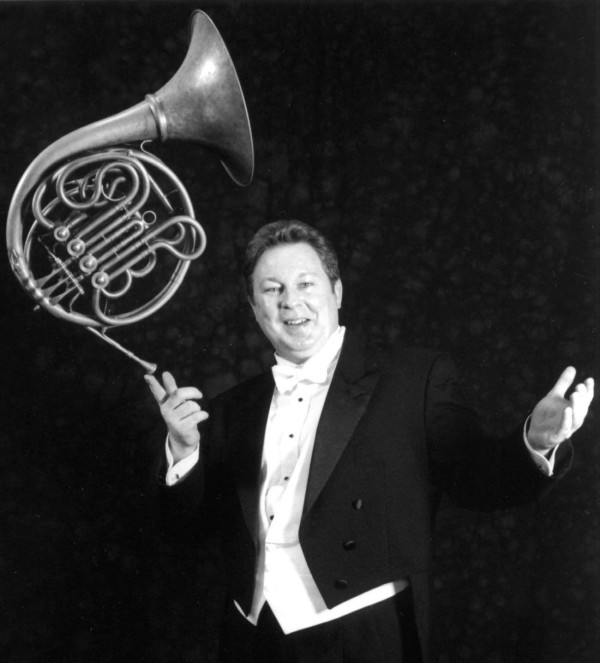 William VerMeulen, Principal Horn of the Houston Symphony
---
HOUSTON SYMPHONY TO PERFORM MUSIC OF JOHN WILLIAMS AND RACHMANINOFF
Symphony Horn Musician William VerMeulen Featured as Soloist Under Guest Conductor Peter Oundjian's Baton

An audience favorite, the Houston Symphony will perform the enchanting music of celebrated composer John Williams accompanied by the grand music of Rachmaninoff on April 2, 4, 5, 2009. Beloved guest conductor, Peter Oundjian will return to conduct the orchestra with featured soloist, William VerMeulen, the Houston Symphony Principal Horn player.

Creator of the now annual Mozart Festival and the New Creations Festival, Oundjian last appeared with the Houston Symphony in 2006 and currently serves as Music Director of the Toronto Symphony Orchestra as well as Principal Guest Conductor of the Detroit Symphony. VerMeulen has been principal horn player with the Houston Symphony since 1990 and holds the post of Professor of Horn at Rice University's Shepherd School of Music.

The body of this program showcases John Williams' life-long love of the horn. His concerto, which was written while he was completing the music to the third Harry Potter film, renders sounds and images of a forest night and a spirited hunter's chase in the various movements - Angelus, The Battle of the Trees, Pastorale, The Hunt and Nocturne. Following the concerto is his Celebration Fanfare which was commissioned by the Houston Symphony in 1986 for the sesquicentennial of Texas and the city of Houston. Closing the program, the orchestra will perform the music of Rachmaninoff's Symphonic Dances which aim to haunt and thrill.
(www.houstonsymphony.org)
---