---
OPENING NIGHT GALA
The Opening Night of Carnegie Hall's 119th Season
Stern Auditorium / Perelman Stage
Thursday, October 1, 2009 at 7 PM
BEETHOVEN
Coriolan Overture, Op. 62
CHOPIN
PIANO CONCERTO NO. 2 IN F MINOR, OPUS 21
- Maestoso
- Larghetto
- Allegro vivace
EVGENY KISSIN, piano
WILLIAMS
"ON WILLOWS AND BIRCHES," CONCERTO FOR HARP AND ORCHESTRA (NY Premiere)
- "On Willows": Adagio. Dreamily
("We hanged our harps upon the willows..."—Psalm 137)
- "On Birches": Allegro. Con gioia
("One could do worse than be a swinger of birches" — Robert Frost)
ANN HOBSON PILOT, harp
DEBUSSY
"LA MER," THREE SYMPHONIC SKETCHES
- From Dawn to Noon on the Sea
- Play of the Waves
- Dialogue of the Wind and the Sea
Encores:
LISZT
Soirées de Vienne (Valses caprices d'après Schubert), No. 6
CHOPIN
Waltz in D-flat Major, Op. 64, No. 1, "Minute"
Bonus Track: Interview with Ann Hobson Pilot
---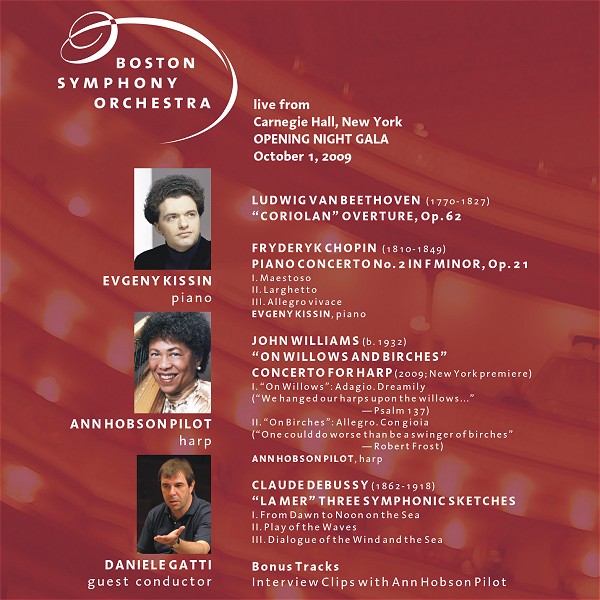 ---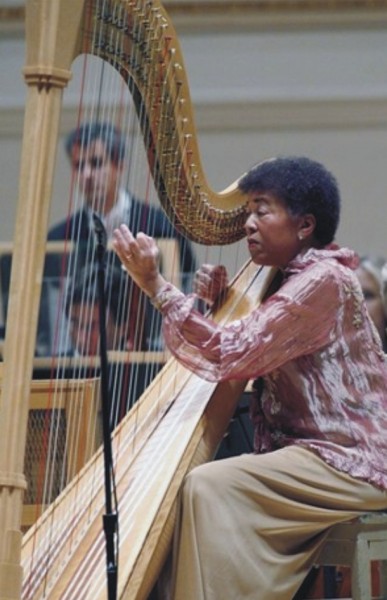 Ann Hobson Pilot
---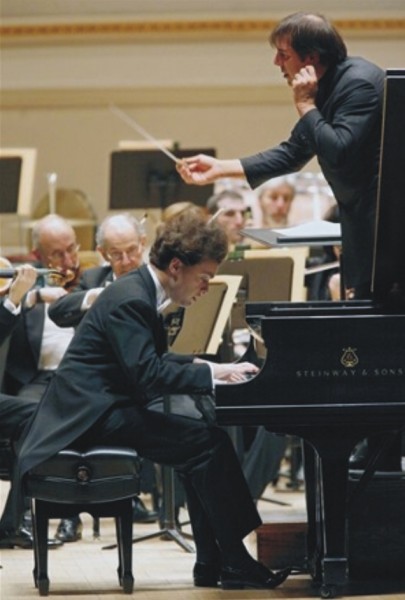 Evgeny Kissin, Daniele Gatti
---
Substitute Conductor, Solid Concert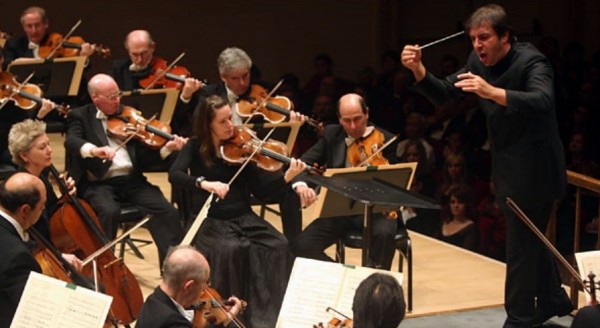 Italian conductor Daniele Gatti, a last minute substitute for James Levine,
leading the Boston Symphony Orchestra in Debussy's "La Mer."
By ANTHONY TOMMASINI, New York Times
Published: October 2, 2009
It took a lot of last-minute scrambling, but the Boston Symphony Orchestra found a
suitable substitute to take the place of James Levine for the concert on Thursday night that
opened the 119th season at Carnegie Hall: the Italian conductor Daniele Gatti.
Only on Tuesday did word come that Mr. Levine would have to withdraw because of a
herniated disk in his back that required immediate surgery. One of the Boston Symphony's
gifted assistant conductors could have stepped in. But the orchestra wanted a known
maestro for this prestigious event.
Mr. Gatti, the music director of the Orchestra National de France and the chief conductor
of the Zurich Opera, who has regularly conducted the Boston Symphony, happened to be
in New York rehearsing Verdi's "Aida" at the Metropolitan Opera, a run that opens on
Friday. He made just one change in the program Mr. Levine had chosen, replacing
Berlioz's "Roman Carnival" with Beethoven's "Coriolan" Overture. All in all, he drew strong
performances from the players, including a highly individual, muscular and intriguing
account of Debussy's well-known "La Mer" to conclude the concert.
Mr. Gatti opened with the Beethoven, a stern, weighty work that sounded even more so
here. He reined in the tempo and emphasized the heaving density of the music. He had
the piece sounding like an ominous Verdi overture. At times the energy slackened and
nearly turned ponderous. Still, I admired Mr. Gatti's willingness to make a statement with
this piece.
The brilliant Russian pianist Evgeny Kissin was the soloist in Chopin's Piano Concerto No.
2. He and Mr. Gatti had never worked together until a rehearsal in Boston on Wednesday.
But Mr. Gatti seemed a temperamental and musical match for the rhapsodic Mr. Kissin in
the performance they gave here.
Mr. Kissin's Romantic approach to Chopin is not to all tastes. His generous use of rubato
to draw maximum expressivity from phrases was sometimes too much. I tend to prefer
Chopin a little more straightforward, more Classical.
Still, this is a question of taste. Mr. Kissin is a phenomenal pianist and a sensitive
musician. He produced wondrous colorings and, in fortissimo outbursts, played with
scintillating yet unforced sound. Though Chopin intricately embellishes his melodic lines,
Mr. Kissin made every note matter: nothing was ever just passagework. He played the
wistfully elegant Larghetto with ethereal textures and poetic grace. Best of all was the
finale, rather like a slightly forlorn mazurka. And he played the spiraling virtuosic flights
with impressive clarity and uncanny delicacy.
Mr. Kissin is typically generous with encores, even when appearing with orchestras. He
granted his cheering audience two on this night: a dashing account of Liszt's "Valse
Caprice" No. 6, after Schubert, and a breathless Chopin "Minute" Waltz that seemed to last
not much more than a minute.
Ann Hobson Pilot, the former principal harpist of the Boston Symphony, who recently
retired after 40 years with the orchestra, was the soloist in John Williams's "On Willows
and Birches," written for her, a work that had its premiere on Sept. 23 in Boston. Though
Mr. Williams made his name (and his fortune) as a film composer, he is a smart craftsman
of concert works.
The first movement of this 15-minute piece, inspired by a phrase from Psalm 137, "We
hanged our harps upon the willows," is alluring, atmospheric music that balances lacy runs
and dry plucked themes in the harp with quizzical, elusive harmonies and shimmering
orchestral textures. It reminded me of Mr. Williams's transfixing score for the film "A.I." The
jaunty second movement, inspired by the Robert Frost poem "On Birches," was less
engaging. The music is jazzy and restless but a little square and tame, like a pops concert
"Petrouchka." Ms. Pilot was a refined and nimble soloist. Mr. Gatti, who learned this score
during a car trip to Boston the day before the concert, seemed in full command.
The Boston S ymphony and the Met have to be worried about the implications of Mr.
Levine's recurring ailments. At 66, he is trying to hold down two of the biggest jobs in
American music, something that would test a completely healthy younger conductor.
But that is another question. Thanks to Mr. Gatti, Carnegie Hall's season is off to a solid
start.
---
At Carnegie gala, sub conductor displays heroics
Oct 2, 2:36 PM EDT
By Martin Steinberg, Associated Press
NEW YORK (AP) -- A not so funny thing happened on the way to the opera.
Italian conductor Daniele Gatti arrived in New York from Japan 1 1/2 weeks ago to lead
"Aida" at the Metropolitan Opera, his first appearance there since 1995. Then, two days
before the gala opening of Carnegie Hall's 119th season, the scheduled conductor, James
Levine, canceled all commitments through December to undergo back surgery.
Hours after the cancellation announcement, the 47-year-old Gatti finished the dress
rehearsal for "Aida" for Friday night's Met performance and agreed to fill in for Levine and
lead the Boston Symphony Orchestra at Carnegie's Thursday night opener.
At dawn Wednesday, he left for Boston, studying the score of John Williams' newly
composed harp concerto as he was driven there for a 2 1/2 hour rehearsal. Gatti, the
orchestra, harpist Ann Hobson Pilot and pianist Evgeny Kissin rehearsed for two more
hours in New York on Thursday.
If that were not enough heroics, Gatti donated his five-figure fee to the BSO in honor of the
67-year-old Levine, who is being treated for a herniated disk.
The performance got off to a rocky start. Because Gatti was uncomfortable with the
scheduled first number, Berlioz's "Roman Carnival" Overture, he opted for Beethoven's
"Coriolan" Overture. The opening attacks were jagged rather than precise. The tempi were
plodding and unexciting. Despite some thrilling music, the performance was dull.
Things got better with Chopin's Piano Concerto No. 2. Gatti led the orchestra in a smooth
accompaniment to Kissin's magnificent solo performance. It's a work that won Kissin world
attention when he first performed it in his native Moscow in 1984 at age 12.
Now, nine days before his 38th birthday, Kissin was at it again. Agitated sections were
filled with brio, Kissin's lyrical lines were dreamy, his runs flawless, his pauses pregnant
with anticipation. After a three minute standing ovation, he rewarded the audience with two
solo encores - charming runs through Liszt's "Soirees de Vienne (Valses caprices d'apres
Schubert)" No. 6 and Chopin's "Minute Waltz" (which actually took a minute, 41 seconds).
After intermission, Gatti faced Williams' "On Willows and Birches," which had its world
premiere only a week earlier by Pilot, Levine and the BSO. The Hollywood composer and
former leader of the Boston Pops wrote the concerto for Pilot in honor of her retirement
this summer. The two had collaborated in Boston for 13 years.
The first movement is inspired by Psalm 137, a lament of the Israelites in exile in Babylon:
"We hanged our harps upon the willows." The music is more ethereal than mournful, with
the nearly constant harp towering over the soft musical cushion provided by Gatti.
The second movement is a joyous, Bernstein-like, romp on Robert Frost's poem "Birches."
("One could do worse than be a swinger of birches.") Gatti's quick study in the car paid off.
He kept the orchestra under control as Pilot artfully breezed through her part.
The final number was Debussy's "La Mer." Despite not having performed this complicated
work since November 2006, Gatti conducted it by memory. Through the impressionistic
undulations, shimmering melodies, flittering asides and stormy agitations, Gatti led a
memorable account.
For Gatti, who is music director of the Orchestre National de France, his first performance
at Carnegie Hall in 12 years ended on a truly triumphant note.
---
John Williams Remembers 'Jaws' as Harp Concerto Opens Carnegie
Interview by Zinta Lundborg, Bloomberg.com
Oct. 1 (Bloomberg) -- Looking back on sharks and ahead to Tintin's dog, Oscar-winning
composer John Williams described his new ode to a few favorite trees.
This is the harp concerto that the Boston Symphony plays tonight as Carnegie Hall opens
for the season without the orchestra's maestro -- James Levine needs back surgery and
Daniele Gatti will take his place.
The busy 77-year-old composer ("Star Wars," "Jaws," "ET," "Schindler's List'') spoke by
phone from his studio in Los Angeles.
Lundborg:
"On Willows and Birches" is inspired by Psalm 137 and Robert Frost. How
does text lead to music for you?
Williams:
I occasionally read about trees, as I guess we all do, and there was a picture of
a famous willow in England with a caption quoting the psalm: "There on the willows we
hung our harps." I just thought: What a wonderful picture of harps hanging in the trees in the evening, wind
wafting through them, creating a beautiful, unearthly sound.
Lundborg:
What are you currently working on?
Williams:
Steven Spielberg is doing a motion-capture rendition of "Tintin," which is a
cartoon popular in Europe, with wonderful original graphics by Herge. I'm composing
music for that now.
Lundborg:
Do you already have a cute canine theme for Tintin's fox terrier, Snowy?
Williams:
Yes, I do.
Lundborg:
When you wrote that two-note motif for "Jaws," when did you know that it was
going to do the trick?
Williams:
When I played the score on the piano for Spielberg, we just laughed about it,
wondering if such a simple device could be effective.
The force it can generate is not unlike the shark's power. It has an unstoppable, primeval,
simple but tremendously strong energy.
Lundborg:
Most of the people on the planet can hum your melodies. Is coming up with
them the hardest part of your job?
Williams:
It's the part that I spend the most time on. Usually the results are not
complicated, but the most challenging part is to get down to the essence of something in a
few short measures.
Lundborg:
"Star Wars" has often been called the greatest score ever written. Is it at the
top of your list?
Williams:
We always see things we wish we can improve and others we take a little pride
in. My personality is such that I always want to look forward and hope I can do better.
Lundborg:
You've done everything, so at this stage of your career, what brings you the
most pleasure?
Williams:
To surprise you, I don't know if I think of it exactly that way. It's all very pleasant,
but it's certainly work for me. I write music almost all the time.
I need to work these musical problems out in my mind, and it's a 24-hour-a-day process.
Many times, I sit up in the middle of the night and say, "Aha, that's the progression, or
that's the tune."
Lundborg:
What do you do when you're not composing?
Williams:
I try to walk an hour a day -- the winter weather is the best thing about living in
L.A. -- and I read a lot more than I listen to music.
Lundborg:
You don't have an iPod?
Williams:
No. When I'm writing, it's not helpful to listen to music, especially great music.
When I do listen, I want to hear something like Haydn, which seems to me so true and so
joyful.
Lundborg:
How is technology affecting music?
Williams:
The future of music itself is certainly going to be wedded very closely to the
development of technologies and audio-visual couplings. Serious composers now are very
interested in film.
Lundborg:
Will live players be rendered obsolete?
Williams:
To a certain extent, they already have been. On the other hand, there is no
substitute for human expression and the beauty great players can bring.
Lundborg:
You helped plan the festivities welcoming 28- year-old Gustavo Dudamel as
music director of the Los Angeles Philharmonic. I hear the Hollywood Bowl on Saturday
sold out in just over an hour. A sign of hope for classical music?
Williams:
It's great to have new energy, new generations and new genius, and we have in
Gustavo the charisma of a young Leonard Bernstein, Yo-Yo Ma or Itzhak Perlman.
It's so reassuring to know we are capable as a species of producing these creatures.
(Zinta Lundborg is a writer for Bloomberg News. The opinions expressed are her own. This
interview was adapted from a longer conversation.)
---
A big THANK YOU to Miguel Andrade!
---