---
OPENING NIGHT AT SYMPHONY
BERLIOZ
"ROMAN CARNIVAL" OVERTURE, OPUS 9

CHOPIN
PIANO CONCERTO NO. 2 IN F MINOR, OPUS 21
- Maestoso
- Larghetto
- Allegro vivace
EVGENY KISSIN, piano
WILLIAMS
"ON WILLOWS AND BIRCHES," CONCERTO FOR HARP AND ORCHESTRA
- "On Willows": Adagio. Dreamily
("We hanged our harps upon the willows..."—Psalm 137)
- "On Birches": Allegro. Con gioia
("One could do worse than be a swinger of birches" — Robert Frost)
ANN HOBSON PILOT, harp
DEBUSSY
"LA MER," THREE SYMPHONIC SKETCHES
- From Dawn to Noon on the Sea
- Play of the Waves
- Dialogue of the Wind and the Sea
Bonus Track: Brian Bell talks with John Williams about "On Willows and Birches", Concerto for Harp
---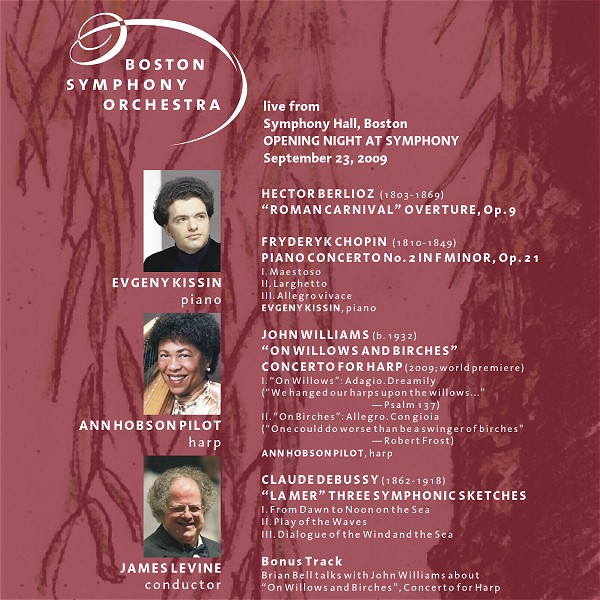 ---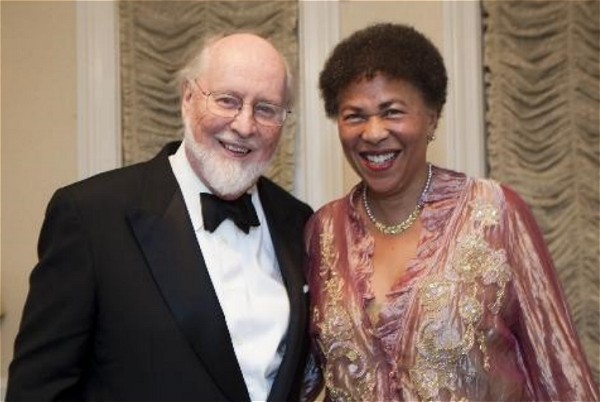 John Williams, Ann Hobson Pilot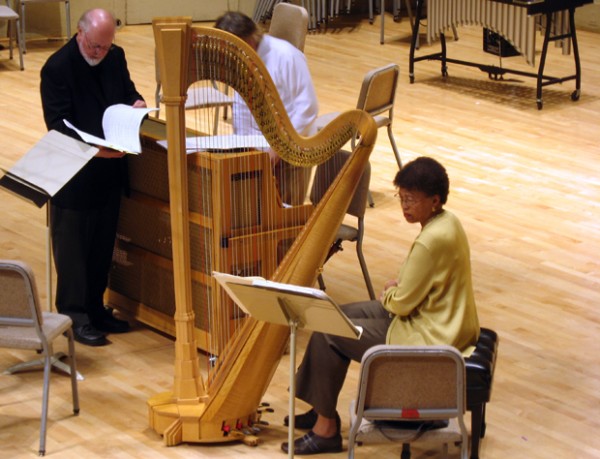 ---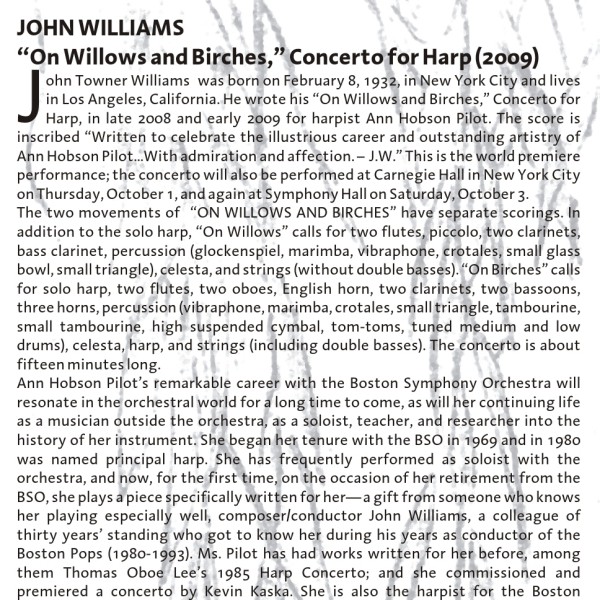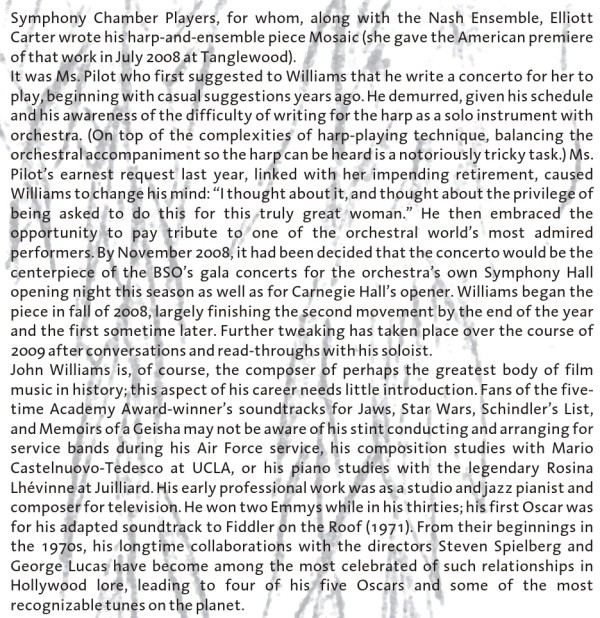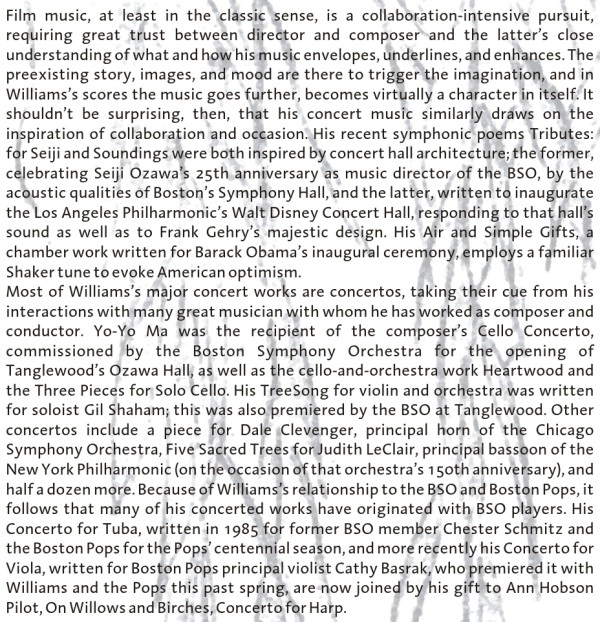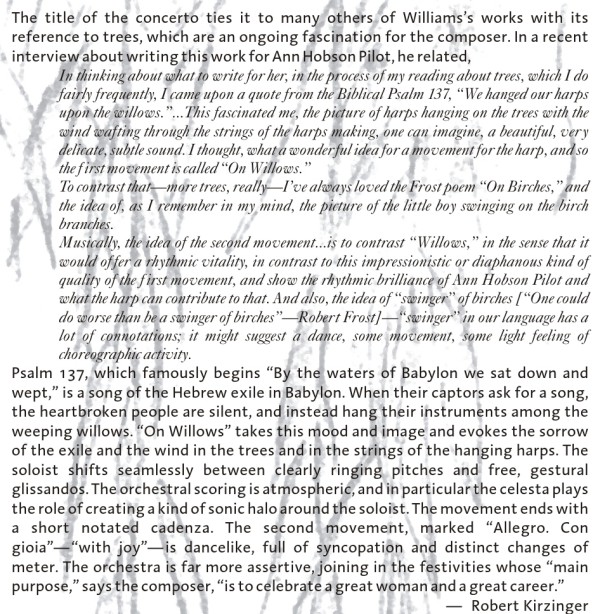 ---

---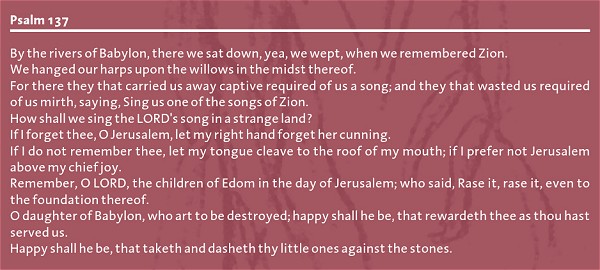 ---
Groundbreaking master of angelic instrument set to take wing
By Geoff Edgers, Boston Globe
Globe Staff / September 22, 2009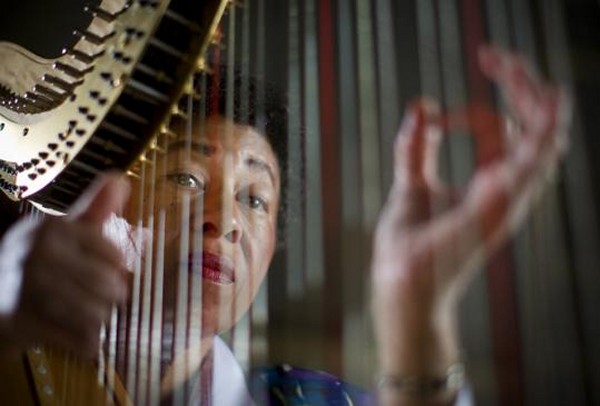 Ann Hobson Pilot spent four decades with the Boston Symphony Orchestra. (Dina Rudick/Globe Staff)
One day in high school, Ann Hobson Pilot, an aspiring harpist who happened to be African-
American, was at a friend's house when the girl's mother pointed to a picture on the wall. It
showed a white woman with flowing blond hair. "Now she looks like a harpist is supposed to,''
the woman said with an edge.
Hobson Pilot still remembers the sting of the comment, even a half centur y later. She
remembers it as she prepares for the highlight of her four decades with the Boston
Symphony Orchestra, tomorrow night's premiere of a concerto written for her by John Williams.
"It surprises me when I think back to that time,'' says Hobson Pilot, now 65. "I worked hard,
but what was I thinking? The harp was considered to be the instrument of an angel, a
white woman with flowing gowns.''
From the Symphony Hall stage, Hobson Pilot changed that perception.
"No one thinks of Ann Hobson Pilot as an African-American harp player,'' says Mark Volpe,
the BSO's managing director. "They think of her as the great harp player of her time.''
The BSO is making that point by featuring Hobson Pilot in programs to celebrate her
recent retirement, including a starring role in tomorrow's opening-night gala and October
concerts in Carnegie Hall and S ymphony Hall.
The honor is unprecedented at the BSO, where senior players typically take their farewell
bow at the orchestra's summer home at Tanglewood. Hobson Pilot is anything but typical.
She tried to retire three years ago. Music director James Levine pleaded with her to stay,
and she did. Now, though, she's ready. She wants to travel, play solo recitals, and perform with other
orchestras. "My main goal was to leave before my playing went downhill,'' Hobson Pilot said during a
recent interview at Symphony Hall. "I feel that way about parties. I'd rather leave early than
stay too long.''
Growing up in Philadelphia, Hobson Pilot was surrounded by music. Her mother and older
sister both played piano. She decided, at age 14, to take up a different instrument. At
school, she asked her music teacher about flute, cello, and violin. Other students had
already taken those instruments. The harp was available.
Her parents paid $15 a month to rent a rickety harp for her to practice on. They also
bought a used green Rambler station wagon to transport the instrument.
As a teenager, Hobson Pilot attended a summer harp camp in Maine and studied at the
Cleveland Institute of Music.
She landed a gig with the National S ymphony in Washington after her 1966 graduation
and remained there until 1969, when Boston Pops conductor Arthur Fiedler suggested she
audition for the BSO. (Fiedler knew her from stints conducting the National Symphony.)
At the time, the only other African-American in the orchestra had been Ortiz Walton, a
double bass player from 1957 to 1962. Hobson Pilot won a permanent post in 1969 as
second harp. She was appointed principal in 1980.
In her new job in Boston, Hobson Pilot didn't push for diversity. She was there to play.
"I was quiet. Still am,'' she said. "I didn't get into making a political presence. My statement
was doing my job and showing that playing music well had nothing to do with color. If
intelligent people looked at me, they'd acknowledge that.''
But Hobson Pilot didn't ignore the issue of race entirely. Her husband, Prentice Pilot, a
bass player in the Boston Pops Esplanade Orchestra for 22 years, became the first artistic
director of Project STEP, a BSO program founded in 1982 to support minority players.
Hobson Pilot volunteered to work with the students.
She also insisted on having her picture on the cover of compact discs she recorded. She
wanted African-American children to see that a woman with dark skin could star in the
classical world.
The reality is that Hobson Pilot leaves a symphony world that hasn't changed much for
African-Americans. Just a handful of black players serve as principals nationwide. The
percentage of African-American musicians in American orchestras has ranged from just
1.4 percent to 1.9 percent over the last eight years.
The trouble, Hobson Pilot and Volpe believe, is not at the orchestra level, particularly
because auditions are conducted behind a screen, making it impossible for members to
rule out musicians based on appearance.
"You start with the fundamental of what's happening in major school districts,'' said the
BSO's Volpe. "There's been an erosion of music programs.''
With Hobson Pilot's exit, only one African-American player will remain in the BSO, cellist
Owen Young.
"I often tell her, you can't leave me here, I'll be all alone,'' joked Young, who joined the
BSO in 1991. "The truth is, what I got from her is professionalism. She comes and plays
and is always prepared. It really has nothing to do with race or gender.''
The Williams concerto came about because Hobson Pilot admired the composer's writing
for harp in his scores for "Schindler's List'' and "Angela's Ashes.'' She called Williams last
year to request a composition, but he declined.
His reluctance stemmed from both his busy schedule and the challenges of writing for solo
harp. "I kept saying, 'Ann, there are so many wonderful composers out there,' '' Williams
recalled. "But she said, 'No, I want you to do it.' In the end, I found I couldn't resist her.''
On a recent day, Hobson Pilot sat on a chair on the Symphony Hall stage with her harp.
She tilted the instrum ent back and began to play the Williams piece, "On Willows and
Birches.''
"For me to play a piece for John Williams is incredible,'' she said, her harp leaning into her.
"And to play with the BSO with Levine conducting. Please . . .''
---
BSO opens season by honoring one of its own
By Jerem y Eichler, Boston Globe
Globe Staff / September 24, 2009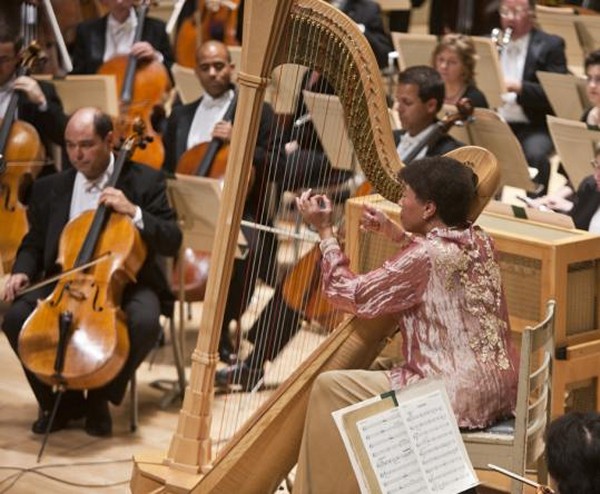 The BSO honored Ann Hobson Pilot, the former principal harpist who retired this summer after a four-decade
career with the orchestra. (Michael J. Lutch)
From a musical perspective, opening nights of orchestral seasons are often fairly formulaic
affairs: one part star soloist, one part fizzy standard repertoire, then OK let's head to
dinner. At last night's opener in S ymphony Hall the Boston Symphony Orchestra tried
admirably to tweak the annual routine, not so much by altering the template as by adding
to it.
There was still a well-known soloist (pianist Evgeny Kissin) and familiar masterworks
(including Debussy's "La Mer ''), but the BSO also seized the moment to honor one of its
own, Ann Hobson Pilot, the former principal harpist who retired this summer after a
distinguished four-decade career with the orchestra. The honoring was also done in the
best possible way: by the commissioning of a new work. Pilot chose John Williams as the
composer to pen her tribute, and the new work, "On Willows and Birches,'' was unveiled
last night. It was the first time a BSO opener featured a premiere since 1980, when Seiji
Ozawa led Bernstein's "Divertimento.''
James Levine was on the podium, looking energetic as he led a spacious and tonally
generous account of Berlioz's "Roman Carnival'' Overture, with Robert Sheena floating a
poised English hor n solo and the brass section erupting with some fiercely festive volleys
in the final pages of the score.
Kissin first made his name with the Chopin piano concertos, and they still flow effortlessly
from his fingers, at least judging by last night's technically brilliant account of Piano
Concerto No. 2. You had to admire the astonishing fluidity and clarity of his passagework,
though there was also a certain emotional chilliness that hovered over his playing. It was a
pleasant surprise when a solo encore - a Schubert-Liszt Valse-Caprice from "Soirees de
Vienne'' - brought out a touch more warmth, fantasy, and openness.
After intermission came the new Williams work, a well-crafted two-movement concerto that
clearly fulfills its stated aims of paying tribute to Pilot and showcasing her formidable
musicianship. That said, it is a modest work in its musical substance and in its effect. The
first movement, titled "On Willows'' after a line from Psalm 137, is slow, spare, and
ruminative, with an undulating solo harp line drifting above a hazy orchestral landscape,
creating a kind of spectral chamber music that seems to be heading somewhere it never
quite reaches. The second movement, "On Birches'' after the Robert Frost poem, is more
chipper, caffeinated, and rhythmically emphatic, with an extended cadenza that puts the
soloist's virtuosity squarely on display.
And Pilot had plenty of it to show this appreciative audience. Her playing had impressive
rhythmic clarity but also a keen sense of mood and color, not to mention a fundamental
graciousness and expressive warmth. As the crowd's ovation made clear, she will be
missed.
---
Boston Symphony Orchestra opens new season with flourish of excitement
By Keith Powers, Boston Herald
Thursday, September 24, 2009
In a splashy season opener, complete with a high-profile conductor (James Levine),
renowned soloist (Evgeny Kissin), and world premiere from the best-known composer on
the planet (John Williams), the Boston Symphony Orchestra began its 129th season in
grand style last night at Symphony Hall.
Tuxedos and gowns were the uniforms of choice, but the glitter in the audience was no
match for the mega-wattage onstage. The program began simply enough with Berlioz's
"Roman Carnival Overture," which Levine amped up in excitable fashion. That brought out
Kissin, and the redoubtable Russian served up a glorious reading of Chopin's Second
Piano Concerto.
The young Chopin, only 20 when he wrote this, knew how to serve the greatest musician
he knew - himself. Yet while this concerto honors the soloist, it avoids mindless virtuosity,
and remains thoroughly appealing and accessible. Fluid and confident, Kissin's playing
captured every inherent emotion.
Williams was commissioned to write a harp concerto to honor the BSO's retiring principal,
Ann Hobson Pilot, who leaves after 40 years. "On Willows and Birches" lasted about 15
minutes, in two decidedly different movements, and showed the composer at his best. The
music was accessible without sounding simplistic.
The first movement, inspired by Psalm 137, airily conjured the musical atmospheres one
expects from the harp. The second movement bore a bouncy sense of rhythmic invention,
never settling on a steady beat but investigating shifts in pulse throughout.
The evening concluded with a boisterous presentation of Debussy's "La Mer," with the
maestro eager to accent the extremes.
---
The Last Pluck: BSO Harpist Retires After 40 Years
By Andra Shea, wbur.org
Published September 23, 2009 (Updated September 24)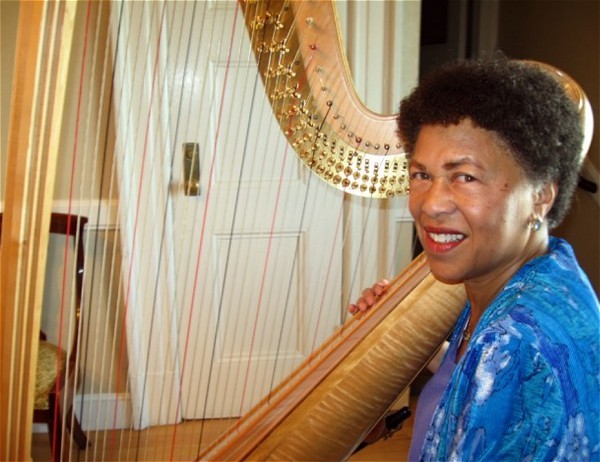 Boston Symphony Orchestra harpist Ann Hobson Pilot (Andrea Shea/WBUR)
Ann Hobson Pilot officially ended her 40-year tenure with the BSO last month, but she said
she doesn't feel like she's retired at all.
"It won't feel like that for a few weeks, I think," she said, laughing.
That's because she's been working harder than ever preparing for the premiere of a new
work by busy Hollywood composer John Williams. His tribute to Hobson Pilot is called, "On
Willows and Birches, Concerto for Harp."
"There's something heavenly — or even divine — if you like, about the harp," Williams
said, "I think it has this special connection with the other-world."
Ann Pilot Hobson fell under the harp's mysterious spell when she was 14 years old,
because it was so different. She said she was, too.
"When I was coming up, I was an oddity being an African-American harpist, " Hobson Pilot
said. "The harp was considered to be first of all a feminine instrument and certainly not an
instrument of people of color. I mean the angels played the harp and all of that."
Hobson Pilot's harp playing got her into the Cleveland Music Institute. Then she won a job
with the Washington National Symphony, where she was the first and only African-
American musician.
Next, in 1969, Hobson Pilot remembers when Arthur Fielder came to guest conduct.
"And he said, 'We have an opening in Boston for the principal of the Pops and 2nd with the
BSO and I like your playing — would you consider auditioning for the job?' "
She did. And she won, recalled Bill Moyers. He played trombone for the BSO when
Hobson Pilot got the job.
"When I joined the orchestra in 1952, there was one other person in the orchestra who
was a woman," Moyers said. "One. And she was the second harpist. All the rest were men.
And there were no people of color."
Hobson Pilot came on in 1969. Today, with her retirement, there is only one full-time African-American member left in the BSO.
But Moyers is quick to remind me of the blind audition process. It all happens behind a screen and is fully based on musical skill.
Hobson Pilot, he said, was hired for no other reason than her beautiful playing.
"She has poetr y inside of her," Moyers said. "What more could you hope for?"
The harpist admits she is disappointed by the lack of diversity in the classical music world,
but she's not bitter. It's brutally competitive, Hobson Pilot says, and there's a lack of early
music education opportunities for minorities.
She's been a role model for school children in Boston, but it's anything but child's play
working full-time for a major music organization like the BSO.
"This orchestra plays perfectly," Hobson Pilot said, laughing, "and you know, being a part
of the orchestra, you have to be perfect. So for 40 years tr ying to be perfect has been a
challenge."
But BSO Managing Director Mark Volpe said she rose to it, again and again.
"It's an instrument where you can't hide, it's out there, and I don't remember Anne
screwing up," Volpe said. "I mean she's amazingly consistent."
Volpe is not the only one to think that. Composer John Williams has never written a
concerto for the harp, and admits he was reluctant to take on the challenge.
"There are difficulties with harp," Williams said. "Limitations, special opportunities, people
will understand there are seven pedals and each string can produce three different pitches
— it can be a C flat, a C natural or a C sharp at any given time."
But Williams said Hobson Pilot won him over, and he finished the piece.
"I stretched it and I actually wondered if she could play it all," he confessed. "I was
surprised that she could — it seems almost like a magic trick to hear and watch her do it."
On stage at Symphony Hall, John Williams rehearsed "On Willows and Birches, Concerto
for Harp" with Hobson Pilot. Sitting on a cushioned stool, she embraced her heavy harp
with her entire body. Her two feet tapped the seven-foot pedals as her nimble fingers
plucked and glided across the 47 strings.
Hobson Pilot said when Wednesday night's concert is over, she'll miss her seat on stage
very much.
"Sitting in the middle of that wonderful BSO sound for 40 years has been beyond belief,"
she said, but added, "I'll be able to sit in the audience and hear it from a different
perspective."
Again, the harpist laughed. Ann Hobson Pilot's final concert with the BSO is Oct. 3 in Boston, but she'll get to kick off
the season at Carnegie Hall in New Yor k on Oct. 1.
______________________
Corrections:
An earlier version of this story, an accompanying video, and the broadcast
version of this story incorrectly stated that Gibson Pilot was first African-American musician
hired by the BSO; in fact, she was the first African-American woman hired. The earlier
story also incorrectly stated the location of Gibson Pilot's final performance; it will be at
Boston Symphony Hall on Oct. 3.
---
Boston Symphony Orchestra To Honor Harpist
Sep 23, 2009 10:07 pm US/Eastern
BOSTON (WBZ)
The Boston Symphony Orchestra's principal harpist, and first female
African-American to join, is retiring after 40 years.
Ann Hobson Pilot will be the featured soloist at the BSO's opening night performance
Wednesday night. She'll be given a retirement gift never given to a member before.
Top Hollywood composer John Williams, the man behind the scores to Superman, Star
Wars, and Harry Potter, has written a piece for Ann called "On Willows and Birches,
Concerto for Harp."
"We are celebrating not just a great harpist, but a great teacher and a great human being
and a great woman," Williams says.
He adds, "Every string on the harp has three pitches. They're constantly being re-tuned by
foot petals and synchronized with hand action - so it is a magic trick that ver y few people
on earth can perform with the kind of skill and art that Ann Hobson Pilot does."
Ann considers it an honor. "It's the greatest gift anybody could give anybody else, with the
possible exception of life," she says.
Ann picked up the harp at 14 years old. She attended a high school in Philly that she says
fortunately for her, had a harp. She's never looked back. She joined the BSO in 1969 and
was appointed to principal harp in 1980.
She tried to retire years ago, but Maestro James Levine begged her to stay. Now, she's
finally ready.
"I was emotionally ready, physically, spiritually, financially ready to leave."
She'll perform "On Willows and Birches" for opening night, at Carnegie Hall October 1st,
then again, for her final performance on October 3rd, with the BSO.
---
A big THANK YOU to Miguel Andrade!
---